These seaweeds can form vast, dense beds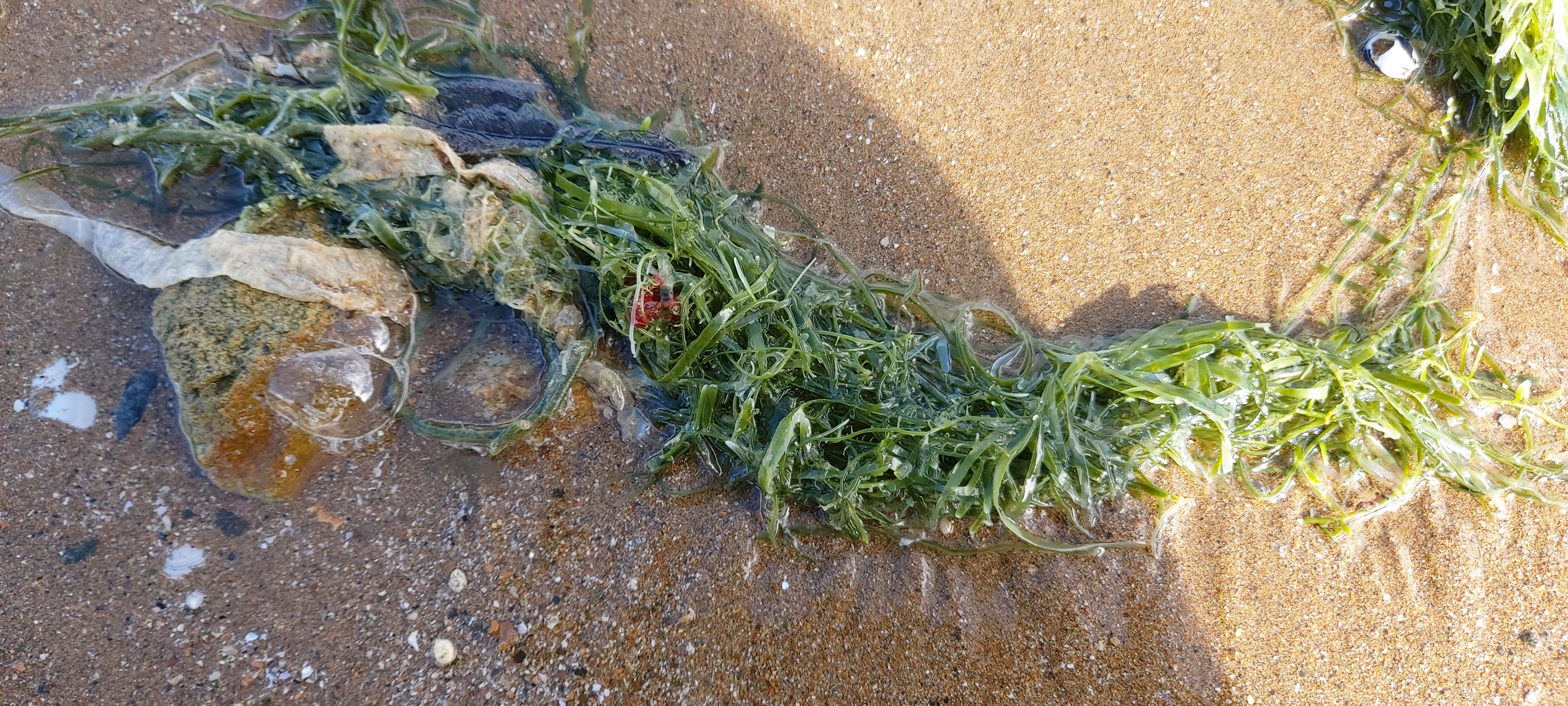 Caulerpa brachypus and Caulerpa parvifolia are seaweeds exotic to New Zealand. Exotic means they have come from overseas. They are native to the Indo-Pacific region, ranging from Africa to Australia, the Pacific Islands, and southern Japan. Caulerpa brachypus is considered an invasive pest in Florida, the United States, and Martinique in the Caribbean.
Both seaweeds are closely related and appear identical. They have fronds up to 10 centimetres long that rise from long runners or roots known as stolons.
They can be found growing below the tideline at between 2 metres and 30 metres on both hard surfaces and in sandy areas.
In favourable conditions, they can spread rapidly, forming vast, dense beds or meadows.
How exotic Caulerpa species can spread
The 2 seaweeds can be spread through breaking into little pieces. This can happen, for example, by wave action or when anchors and fishing gear are moved into or through weed beds.
Fragments are also carried easily on coastal currents.
Pieces can get tangled in or stuck on equipment (for example, nets, dive and fishing gear, and crayfish pots). It can survive out of water for up to a week or more if it's in a moist location (like in an anchor locker or a bunched-up fishing net).
How did they get to New Zealand?
It is not known how long these 2 Caulerpa species have been here or how they arrived. It is possible the 2 different seaweeds were carried together by a visiting international vessel or on a domestic vessel from another, as yet unidentified, infested area in New Zealand.
Help stop the spread
Check your gear – anchors and chains especially. If you see any seaweed on your equipment, chuck it straight back.
What we're doing
Biosecurity New Zealand is working closely with Aotea and Ahuahu mana whenua and the local communities, along with Auckland Council, the Waikato Regional Council, and the Department of Conservation to collectively decide the most appropriate course of action.
To find out more, you can subscribe to receive regular Caulerpa newsletter updates.
Subscribe to the Caulerpa newsletter
Questions we're frequently asked about exotic Caulerpa and its management [PDF, 417 KB]
Public presentation on the biosecurity response to exotic Caulerpa [PDF, 4 MB]
Controlled Area Notice and rāhui at Aotea Great Barrier Island and Ahuahu Great Mercury Island
To minimise the spread of exotic Caulerpa species, Biosecurity New Zealand has placed a Controlled Area Notice (CAN) on 3 affected harbours at Great Barrier Island – Blind Bay, Tryphena Harbour, and Whangaparapara Harbour, and over an area of the south western coastline of Ahuahu Great Mercury Island. Mana whenua for the islands have imposed a rāhui on the same areas.
Controlled Area Notice for Great Barrier Island and Great Mercury Island [PDF, 1.6 MB]
Maps of the controlled areas
Caulerpa Controlled Area Notice: Zone A – Tryphena Harbour, Great Barrier Island [PDF, 234 KB]
Caulerpa Controlled Area Notice: Zone B – Blind Bay, Great Barrier Island [PDF, 229 KB]
Caulerpa Controlled Area Notice: Zone C – Whangaparapara Harbour, Great Barrier Island [PDF, 1.3 MB]
Caulerpa Controlled Area Notice: Zone D – Ahikopua Point – Maunganui Point – Great Mercury Island [PDF, 3.6 MB]
New controls start on 31 October 2022
New controls for Aotea Great Barrier Island come into effect from 11.59pm on 31 October 2022. Note, the controls for Ahuahu Great Mercury Island are under review and are also likely to change.
Aotea Great Barrier Island
You cannot anchor a vessel in the three harbours under controls – Blind Bay, Whangaparapara Harbour and Tryphena Harbour.
Anchoring is only allowed in an emergency (for example to seek shelter in a storm) or with a permit from Biosecurity New Zealand for some limited circumstances (for example if you live at Aotea and need a vessel for routine transport, or for scientific research).
A permit is not required in an emergency.
Rod and line and hand line fishing is allowed from the shore, or from structures fixed to the shore – for example wharves and jetties.
All other fishing remains prohibited. Spear fishing, gathering kina and crayfish, longlining, net fishing and drift fishing are not allowed.
To apply for an exemption permit to anchor in Blind Bay, Whangaparapara Harbour, or Tryphena Harbour, complete the application form and email it to Caulerpa@mpi.govt.nz
For advice about permits:
Ahuahu Great Mercury Island
No fishing is allowed in the controlled area.
Anchoring is allowed in the controlled area, which covers an area of the south-western coast of Ahuahu Great Mercury Island between Ahikopua Point and Maunganui Point.
Vessel operators are required to check and clean the anchor and chain before moving to another area.
Any visible seaweed should be removed and returned to the water in the area, and the anchor and chain should be rinsed.
Further CAN information for both islands
Boats or equipment (for example, crayfish pots) cannot be taken into the controlled areas for seafood gathering.
You can swim, dive (without gathering kai moana), paddle, kayak and boat in the controlled areas. However, all marine equipment used for water-based activities (for example, footwear, wetsuits, boat trailers, kayaks) cannot be removed from the controlled areas without first checking for seaweed and removing it.
Any weed or plant matter found on gear must be placed back into the same waters in the controlled area. This equipment must then be rinsed off with water before being reused in the ocean.
You can launch a boat from any of the controlled areas to go fishing in other areas outside the controlled areas.
Vessels can continue to move through the controlled areas but anchoring, permitting, or cleaning requirements must be met.
Other ways you can help
Keep an eye out for exotic Caulerpa species. If you believe you have seen them in areas outside of Blind Bay, Tryphena Harbour, and Whangaparapara harbours at Great Barrier Island, or the coastline of Great Mercury Island between Ahikopua and Maunganui Points:
Images to help you identify the seaweeds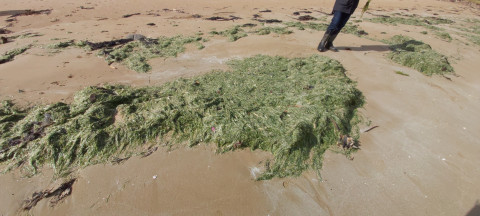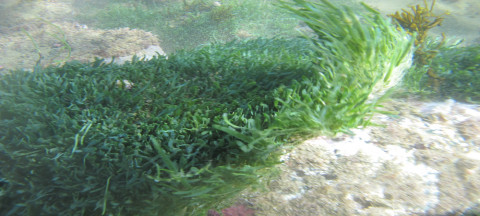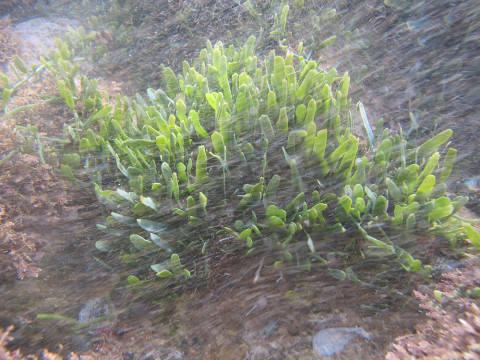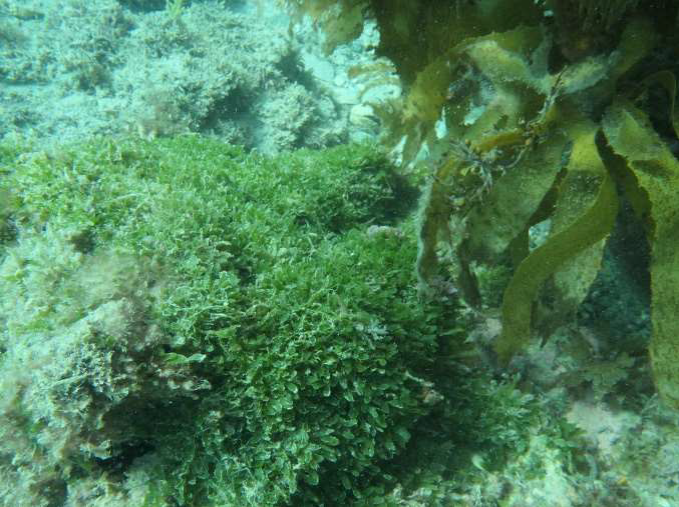 Information sheets
See Weed, chuck it straight back (updated February 2023) [PDF, 5.3 MB]
Caulerpa identification guide (February 2023) [PDF, 8.1 MB]
See Weed, Chuck it Straight Back – Summer campaign flyer [PDF, 2.9 MB]
Caulerpa brachypus and the Controlled Area Notice at Great Barrier Island [PDF, 2.5 MB]
Leaflet on Caulerpa brachypus and the Controlled Area Notice at Great Barrier Island [PDF, 4.2 MB]
Caulerpa – Great Barrier Island biosecurity response [PDF, 943 KB]
Caulerpa parvifolia and Caulerpa brachypus fact sheet 2022 [PDF, 342 KB]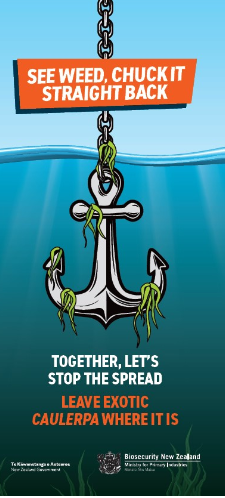 Get the latest updates
Subscribe to the Caulerpa newsletter