Report fall armyworm
We need you to take a photo or capture a sample and report any signs of fall armyworm, anywhere in New Zealand.
Your reports are important to understanding the spread of this insect pest.
You can report sightings online or call 0800 80 99 66.
Fall armyworm presence in NZ
Fall armyworm (FAW) is thought to have been carried on storm fronts from Australia and arrived in New Zealand around February 2022.
Biosecurity New Zealand and primary sector groups including Seed & Grain, Process Vegetables, Vegetables NZ, NZ Apple & Pears, Summerfuit NZ, Tomatoes NZ, Potatoes NZ, and Onions NZ are working together to understand the spread of this pest
We encourage everyone to look for signs of FAW, particularly on maize and corn plants.
Fall armyworm fact sheet [PDF, 833 KB]
Surveillance and research
As part of the work against FAW, Better Border Biosecurity (B3) has started a research programme. It's to better understand the survival, distribution, and potential impacts of this moth pest in New Zealand. More than 300 FAW pheromone traps have been distributed around the country to support the work.
How farmers and growers can help
We'd like farmers and growers to keep a lookout for FAW on their properties. This includes growers who have deployed their own FAW pheromone traps, are undertaking crop scouting, or just making regular checks of their crops. Even if you do not detect FAW, we want you to tell us.
Moth surveillance is an important first action in management because it alerts growers of the presence of local fall armyworm activity.
Short field guide for identifying fall armyworm [PDF, 653 KB]
Fall armyworm quick growers guide [PDF, 657 KB]
If you think you have detected FAW on your crops
Take a clear dorsal (top down) photo – the caterpillars you photograph should be at least 2cm long.
Freephone our pest and disease hotline (0800 80 99 66) or make a report online
Alternatively, you can report a detection using the Find-A-Pest app
Note that FAW can easily be mistaken for other species that are already in New Zealand.
Check 3 other species often confused with FAW
If you don't find any FAW on your property
We would still like to know to help build a picture of their distribution. Report no findings to us at the end of each month (between September 2022 and 31 March 2023) using the negative surveillance form.
Fall armyworm negative surveillance reporting form [DOCX, 686 KB]
Send completed forms to faw@mpi.govt.nz
Managing fall armyworm on your farm or property
We have not issued a direction for growers to destroy any crops. The moth can be treated with several types of insecticides, many of which are already used in New Zealand for other kinds of pests.
While there are insecticides that have proven to be effective, growers must check with their distributor, marketer, or processor regarding the use of agrichemicals.
Work is being done to identify possible fall armyworm controls, and agrichemical companies are being encouraged to register suitable products for control.
Actions you could take to manage fall armyworm if it is found on your property
For volunteer crops of maize/sweetcorn coming through, you could:
spray the volunteer plants with any herbicide you have in your shed followed by tilling to a minimum 10cm depth
spot spray the volunteer plants with insecticide (ideally diamides or spinosyns/spinosoids)
if there are small numbers, hand pull the volunteer plants and securely dispose of them
mow or intensively graze the field with the volunteer plants to remove the host material and starve the caterpillar
think about rotation into a different crop for next season.
If there is a whole field planted with maize or sweetcorn, farmers and growers could:
harvest the field for silage or baleage and ensure the bulk host material is removed from the site
take steps to manage any volunteer plants coming through as listed above.
What can home gardeners and lifestyle block owners do?
To help protect New Zealand from this pest, it is important that Biosecurity New Zealand understands the geographic spread, so we need everyone to watch out for fall armyworm.
Short field guide for identifying fall armyworm [PDF, 653 KB]
Fall armyworm quick growers guide [PDF, 657 KB]
If you think you spot fall armyworm in your vegetable garden (or elsewhere on your property) then:
Catch it – collect the caterpillar in a container.
Snap it – take a clear dorsal (top down) photo – the caterpillars you photograph should be at least 2cm long.
Report it – contact Biosecurity New Zealand. Either freephone the pest and disease hotline (0800 80 99 66) or use the online report form
Treatment for fall armyworm
For advice on managing pest caterpillars and moths in your home garden, talk with your local gardening supplier.
About the fall armyworm
Fall armyworm is the name commonly attributed to the larval stage of the moth Spodoptera frugiperda.
The fall armyworm life cycle
Egg stage.
6 caterpillar (larval) stages.
A pupal stage.
An adult moth stage.
The larval life cycle stages cause widespread damage to crops through feeding.
Fall armyworm eggs
Usually laid on the under surface of leaves in clustered masses of 100 to 200.
The masses are covered with a 'felt like' layer of scales.
The eggs are pale yellow.
Fall armyworm larvae
Small larvae are usually light green to brown, with a dark head capsule. Young larvae feed on one surface of the leaf.
Large fall armyworm larvae grow to 3cm to 4cm, becoming darker as they mature, with pale white stripes along the length of the body.
The large caterpillars have a pale inverted "Y" shape between the eyes. Two dark spots with dark spines occur on each body segment on the upper body surface, with 4 black spots arranged in a square on the second last abdominal segment.
Larvae normally pupate in the soil. The pupae are shiny brown and between 1.3cm and 1.7cm long.
Adult fall armyworm moths
Measure 3cm to 4cm from wingtip to wingtip.
Female moths are slightly larger than males, although both sexes have a white hindwing with a dark-brown margin.
Male moths are more patterned and have distinct triangular white spots at the tip and near the centre of each forewing.
Fall armyworm identification sheet [PDF, 1.5 MB]
Images of the fall armyworm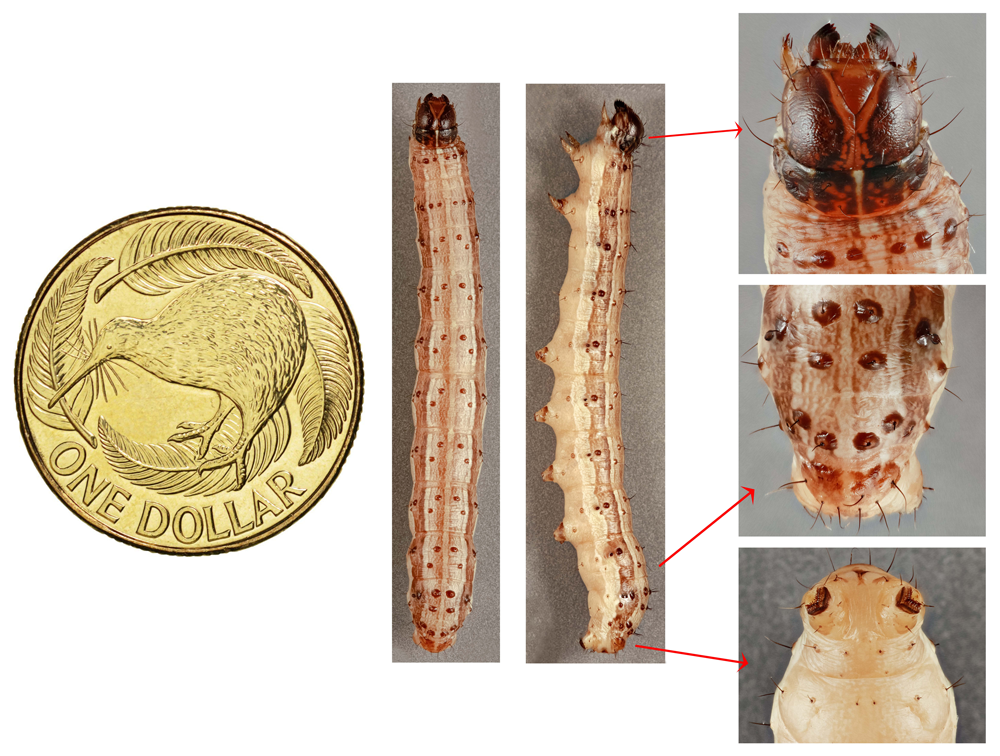 | | |
| --- | --- |
| Close-up of the head of a fall armyworm larvae. | Close-up of the tail of a fall armyworm larvae. |
| | |
| --- | --- |
| A fall armyworm larvae. | Fall armyworm adult moths – male (left), female (right). |
Risk to New Zealand
Fall armyworm larvae feed on more than 350 plant species, especially sweetcorn and maize.
Adult fall armyworm moths are strong flyers and will travel hundreds of kilometres on storm fronts. The larvae can also be spread in cut flower, fruit and vegetable consignments.
This moth has been on our radar for some time, as it has been spreading around the world. It is present in the Americas, Africa and Asia, and is established in parts of Australia.
Our risk analysis found it would struggle to establish here as areas with preferred hosts do not necessarily have the correct climate to suit fall armyworm.
Similar species to the fall armyworm
Particularly in the larval stage, fall armyworm can often be mistaken for closely related species. The most mistaken larvae are the:
Cosmopolitan armyworm (Mythimna separata)
Tropical armyworm (Spodoptera litura)
Corn earworm (Helicoverpa armigera).
All 3 species are found throughout the North Island. Know how to spot the difference.