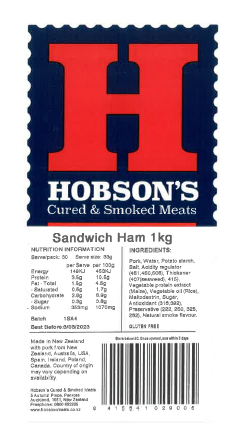 Product identification

Product type

Processed Meat

Name of product (size)

Hobson's brand Sandwich Ham (1kg)

Batch marking

1SA4

Date marking

3/03/2023

Package size and description

The product is sold in a 1kg vacuum plastic packaging

Distribution

Gilmours Manukau
Gilmours Tauranga
Gilmours Hamilton
Gilmours Palmerston North
Gilmours Wellington

Notes

This recall does not affect any other Hobsons's brand products.
Point of sale notice for retailers
If you are a retailer of the product in this recall notice, you need to download a copy of the below Point of sale notice and display it in your store for one month.
Point of sale notice – Hobson's brand Sandwich Ham [PDF, 75 KB]
Consumer advice
Customers are asked to check the batch and date mark located under the nutrition information panel.
Affected product should not be consumed. There have been no reports of illness, however, if you have consumed any of this product and have any concerns about your health, seek medical advice.
Customers should return the product to their retailer for a full refund.
Who to contact
If you have questions, contact Source and Supply Food Co Limited
Phone: 09 570 1912
Address: 5 Autumn Place, Penrose Auckland, 1642