Risk to NZ from the freshwater gold clam
The freshwater gold clam is native to eastern Asia and is widely established in North and South America and Europe.
These clams reproduce rapidly and form large populations that can clog water-based infrastructure such as electric generation plants, irrigation systems, and water treatment plants. They are filter feeders that can potentially compete with native species for food. We do not yet know how this species will respond in New Zealand conditions.
Overseas, this clam has proved difficult to control and eradication has never been achieved.
Where the clams were found
The first detection was made by ecologists at Bob's Landing near Lake Karāpiro. Clams have subsequently been found in surveyed areas along about 50km of the Waikato River from 1.5km upstream of Bob's Landing down to Hamilton.
It is not known how the molluscs arrived in New Zealand and this will be part of ongoing investigations.
What we're doing about the discovery of the clams
Biosecurity New Zealand is trying to determine how far the clams have spread and explore potential future actions.
We're working with mana whenua, Waikato River Authority, Waikato Regional Council, Department of Conservation, Land Information New Zealand, and other organisations.
Initial work will involve surveillance, including the use of targeted environmental DNA (eDNA) to understand how widely the freshwater gold clam is distributed in the river, and potentially, in other water bodies. This information will help us decide what actions to take.
How to identify freshwater gold clams
This clam is found in freshwater or in brackish water. It's able to survive a wide range of temperatures and salinities. They can be found within the water, sitting on top of sandy or muddy surfaces, or buried shallowly within them. You may see their shells partly exposed, or their syphons (their breathing tubes) sticking out from the sediment. They can also be found amongst debris, such as leaves, that may have settled on the riverbed. At Bob's Landing, juvenile shellfish and larvae have been found attached to rocks.
Freshwater gold clams are prolific breeders, able to produce 400 juveniles a day and up to 70,000 juveniles a year.
The adult clams are 2cm to 3cm in length and are typically dirty white, yellow, or tan. They have an obvious ribbed texture on the shell.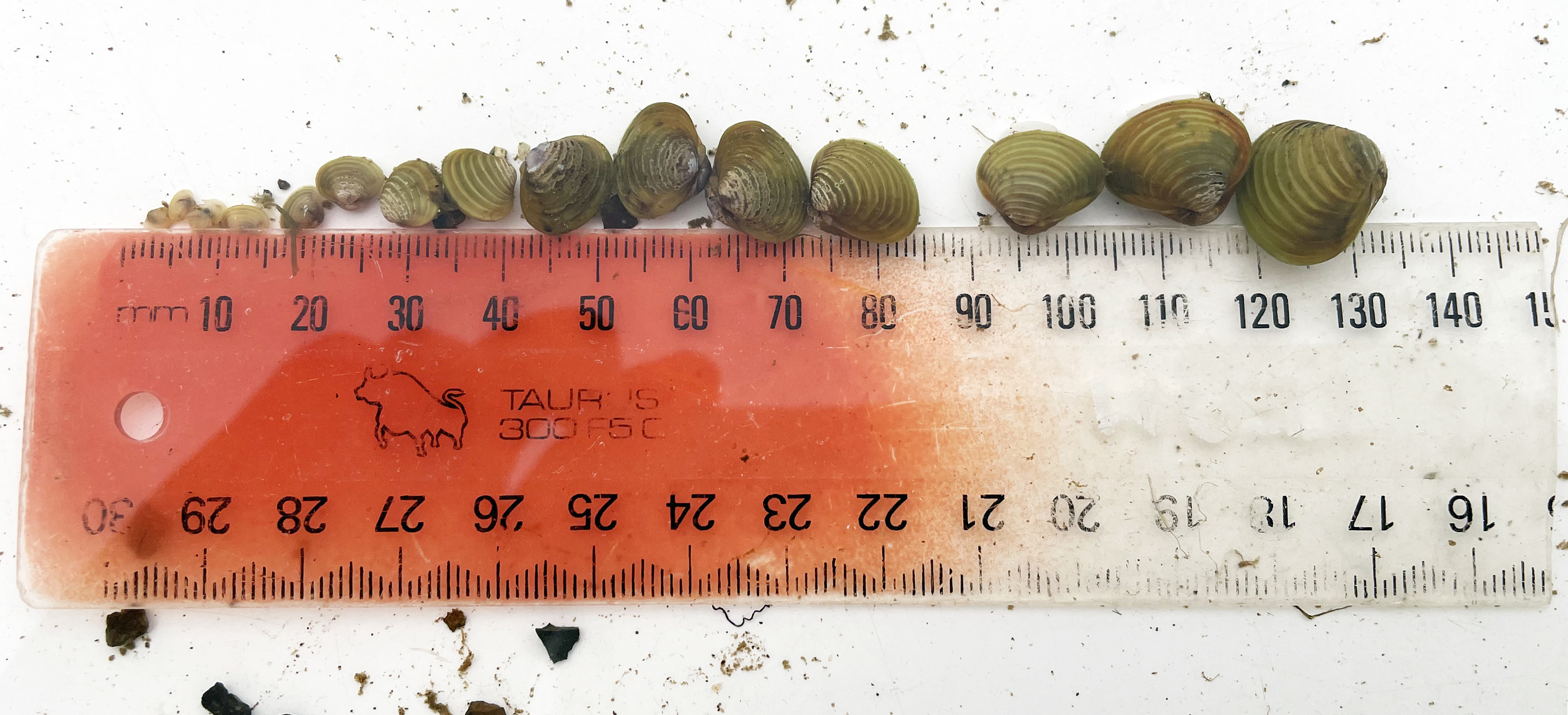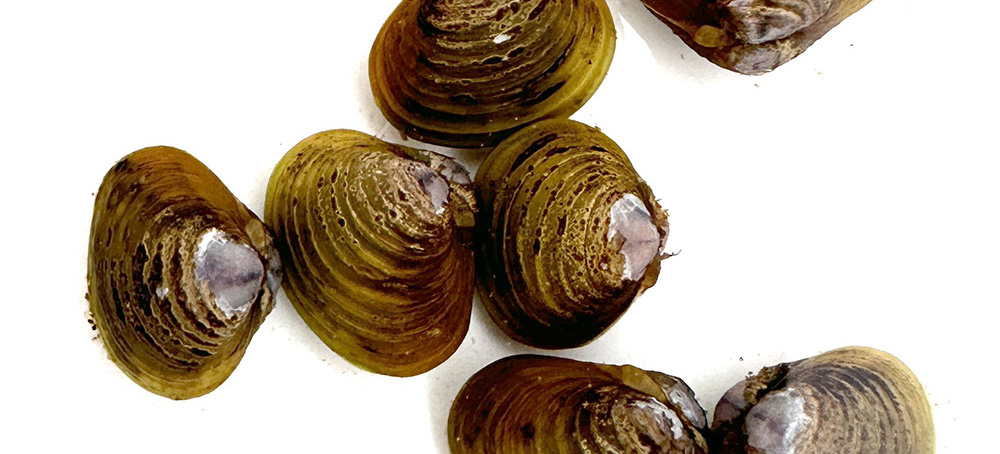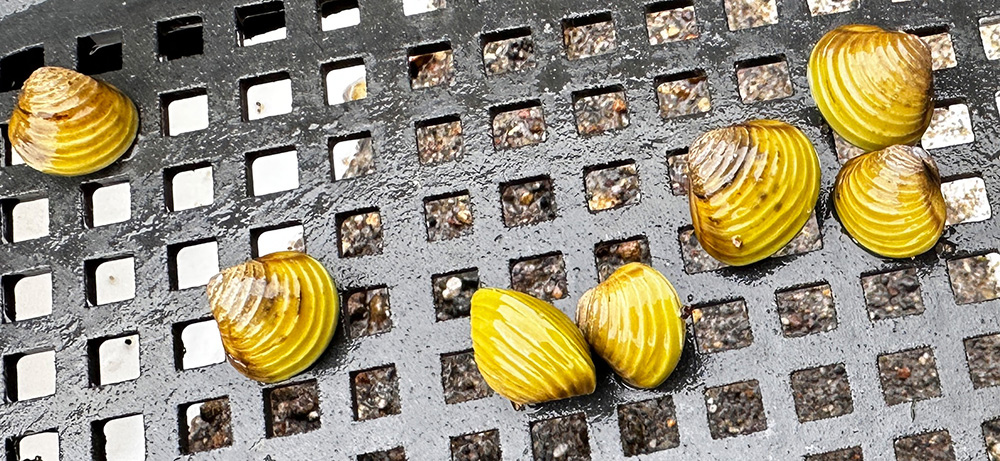 How you can help us
You can help us build a picture of where this clam is present by reporting suspected sightings to Biosecurity New Zealand.
If you think you've seen the freshwater gold clam:
note the location
take a photo if possible.
You can then either:
If you are using the online reporting form, you'll need to start by saying you are a member of the public, that you want to make a report about 'a marine or freshwater issue' and then select 'freshwater fish or crustacean' from the dropdown box that will appear. Then you will be taken through some further questions including contact information and asked to load your images.
Example of how to complete the first 3 fields of the online reporting form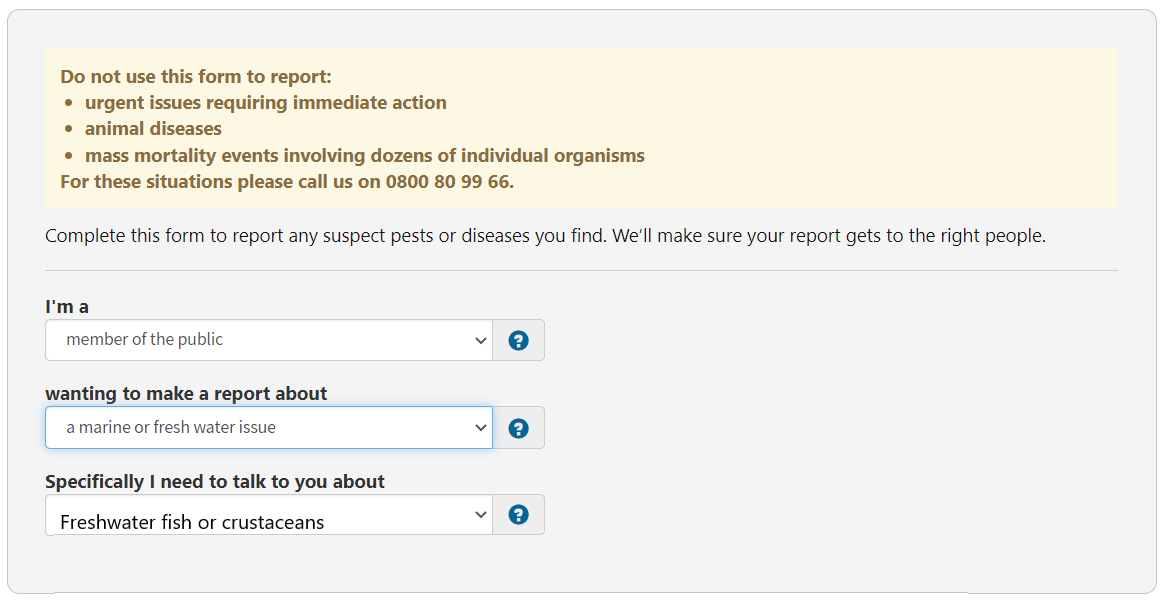 Help stop the spread
If you fish, boat or row in the Waikato River, this situation is a reminder to 'check, clean, dry' to help stop the possible spread of the freshwater gold clam.
Check, clean, dry
Follow these steps before moving to another location at the river, or to another river or lake.
Check
Remove any visible matter, including any clams you can see, along with plant material or mud. Drain all river water.
Clean
Do a washdown of your gear and watercraft with tap-water onto grass, beside the waterway or at home and not into a stormwater drain system. This will flush off clam larvae, which can be too small to be seen.
For gear made of absorbent materials, which will stay wet longer, apply a cleaning treatment
Dry
Allow gear to dry to touch, inside and out, then leave it to dry for at least 5 days.
Dry areas inside the watercraft where water has pooled, for example with an old towel, and then leave the craft to dry for at least five days. The hull of a watercraft will dry when towed.
Treatment options for gear made of absorbent material
Type of treatment

Method

Hot water

Above 45°C for 5 minutes (about the heat needed to wash dishes)

Freezing

Until solid (as the clams have a thermal tolerance of 2°C)

Other treatment options

Type of treatment

Method

Broad spectrum disinfectants

Mix household bleach in a 10% (1 in 10) ratio with water and immerse for 1 hour.

Steam cleaning

Steam of 100°C or above for at least 30 seconds, on the clams between 3cm and 4cm from the steam source. Be careful with your gear.
Note: The 'check, clean, dry' advice may be adjusted as further technical information becomes available. Refer to the manufacturer's instructions for gear and any commercial treatments.
Fact sheet about the clams
Information on this web page is also available in a document you can download.
Freshwater gold clam (Corbicula fluminea) – fact sheet [PDF, 4.7 MB]