Bonamia ostreae parasite control in oysters
Bonamia ostreae is a parasite that infects flat oysters, including New Zealand's flat (Bluff or dredge) oysters. On 25 March 2021, 3 wild oysters from Foveaux Strait were confirmed infected with the parasite. Find out about Bonamia ostreae and what we're doing.
What is Bonamia ostreae?
Bonamia ostreae is a parasite that can kill flat oysters. Overseas it has significantly affected farmed flat oysters. However, we do not yet understand the impacts it would have here, particularly on wild oysters.
Bonamia ostreae was detected for the first time in the Marlborough Sounds in 2015. In 2017, it was found in Big Glory Bay, Stewart Island. On 25 March 2021, it was confirmed present in wild oysters from Foveaux Strait.
Bonamia ostreae in Foveaux Strait oysters
Since its detection in New Zealand in 2015, Biosecurity New Zealand has carried out an operation to try to protect wild oyster fisheries.
This has included removing a number of flat oyster farms in Big Glory Bay, Stewart Island, and running a surveillance programme to look for early signs of the parasite in the wild.
On Thursday 25 March 2021, Biosecurity New Zealand received confirmation that 3 oysters from one of 6 sampling sites in Foveaux Strait had tested positive for Bonamia ostreae. The site is east of Saddle Point, Stewart Island. Biosecurity New Zealand started work with Ngāi Tahu, fishers, and other affected parties to explore future actions.
Map of surveillance areas and detection site [PDF, 2.9 MB]
Download the fact sheet [PDF, 330 KB]
Our response to discovering infected oysters in March 2021
Biosecurity New Zealand is sampling further oysters from Foveaux Strait to build a picture of whether the parasite is more widely distributed and help determine the most appropriate future action.
In the meantime, Bluff oyster quota holders, who are in the middle of this year's season, are able to continue to fish. Biosecurity New Zealand is working with them and Ngāi Tahu, on future management.
Rāhui and the Controlled Area Notice (CAN)
On 30 March 2021, Ngāi Tahu and Biosecurity New Zealand enacted a rāhui and a Controlled Area Notice. They set out a small geographical area where people cannot fish or dredge for oysters. These activities could increase the risk of spreading any disease present in the area.
The controls will not affect the supply of Bluff oysters. The controlled area is small and hasn't been fished for the past 5 years. There are plenty of oysters available from other areas.
Map of Bonamia controlled zones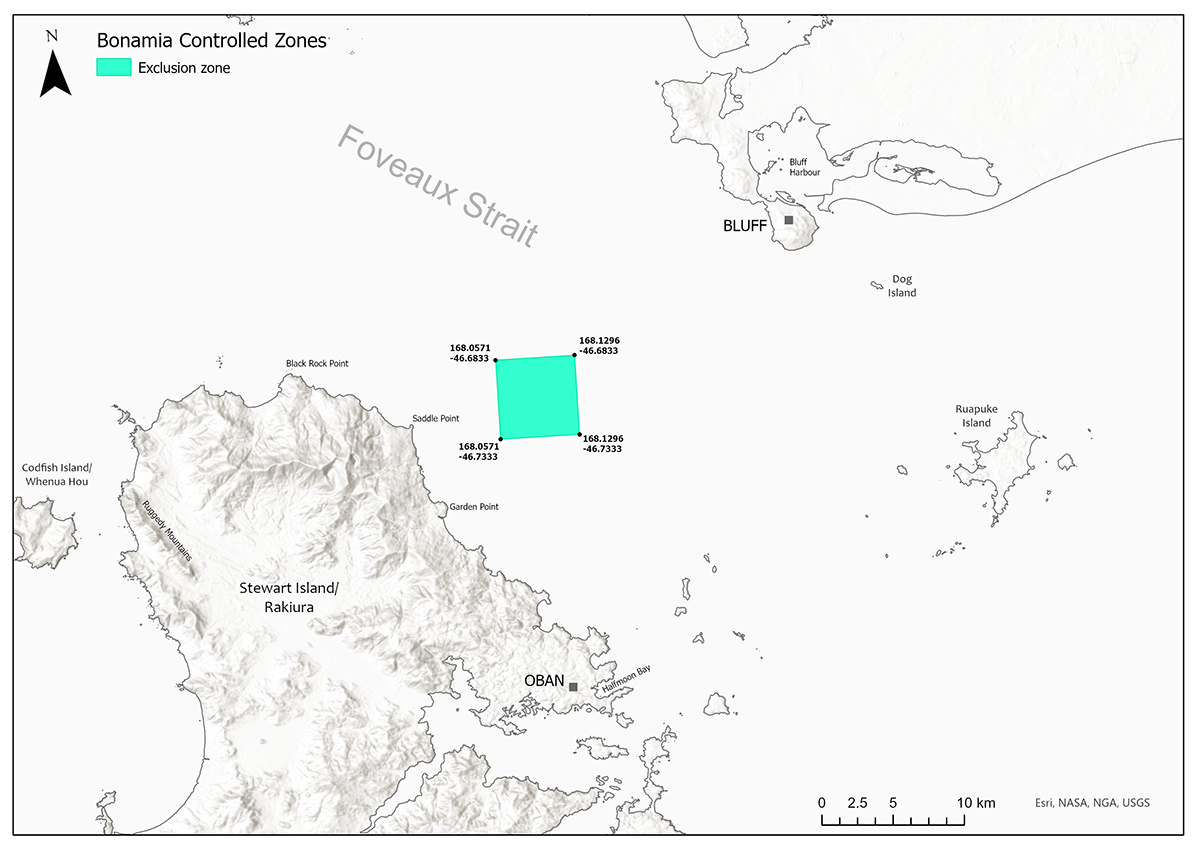 The coordinates for the exclusion zone area
46°40.998' S, 168°3.426' E OR 46°40'59.88" S, 168°3'25.56" E
46°40.998' S, 168°7.776' E OR 46°40'59.88" S, 168°7'46.56" E
46°43.998' S, 168°3.426' E OR 46°43'59.88" S, 168°3'25.56" E
46°43.998' S, 168°7.776' E OR 46°43'59.88" S, 168°7'46.56" E
Control area notice [PDF, 820 KB]
No food safety risk
Bluff oysters are safe to eat. Bonamia ostreae presents no food safety risk and has no human health impacts. Fresh, good quality New Zealand oysters continue to be safe to eat.
Bonamia ostreae is a different species to Bonamia exitiosa, which has previously affected the Bluff oyster fishery. The oyster fishing industry has worked through that particular situation to maintain a sustainable fishery.
Support for those affected
Biosecurity New Zealand is committed to working with industry and Ngāi Tahu partners on this uncertain situation. We understand this may be stressful for those who derive their income from the fishery and the communities who value the taonga.
If people need support at this time, they can contact Fisher Support Services on 0800 237 438 (0800 ADRIFT) anytime between 7am – 10pm. In the case of an emergency crisis, please dial 111.
How to spot Bonamia ostreae infection
It can be hard to spot the disease caused by Bonamia ostreae. Common symptoms in oysters are:
poor condition
gills that look corroded
yellow discolouration of the gills and mantle.
Bonamia ostreae can also cause widespread oyster deaths.
Flat oyster farmers, harvesters, and fishers should keep an eye out for these signs. If you see anything suspicious, call our Exotic Pest and Disease Hotline – 0800 80 99 66.