Bonamia ostreae parasite control in oysters
Bonamia ostreae is a parasite that infects flat oysters, including New Zealand's flat (Bluff or dredge) oysters (tio). In March 2021, 3 wild oysters from Foveaux Strait were confirmed infected with the parasite. Find out about Bonamia ostreae and what we're doing.
What is Bonamia ostreae?
Bonamia ostreae is a parasite that can kill flat oysters. Overseas it has significantly affected farmed flat oysters. However, we do not yet understand the effect it will have here, particularly on our species of wild oyster in our unique marine environment.
Bonamia ostreae was found for the first time in the Marlborough Sounds in 2015. In 2017, it was found in Big Glory Bay, Stewart Island. On 25 March 2021, it was confirmed present in wild oysters from Foveaux Strait.
Who to contact
If you have questions, and want to subscribe to updates on the situation about Bonamia ostreae:
Bonamia ostreae in Foveaux Strait oysters
Since its discovery in New Zealand in 2015, Biosecurity New Zealand has carried out an operation to try to protect wild oyster fisheries.
This included removing a number of flat oyster farms in Big Glory Bay, Stewart Island, and in Marlborough, and running a surveillance programme to look for early signs of the parasite in the wild.
On 25 March 2021, Biosecurity New Zealand received confirmation that 3 oysters from one of 6 sampling sites in Foveaux Strait had tested positive for Bonamia ostreae. The site is east of Saddle Point, Stewart Island. Biosecurity New Zealand is working with Ngāi Tahu, fishers, farmers and other affected parties to explore future actions.
Map of surveillance areas and detection site [PDF, 2.9 MB]
Download the fact sheet [PDF, 330 KB]
Our response to the Foveaux Strait discovery
Biosecurity New Zealand immediately re-tested oysters sampled from Foveaux Strait in February as part of regular monitoring of a different Bonamia species – Bonamia exitiosa.
All 1700 oysters tested negative for Bonamia ostreae.
Further testing by NIWA of 2,800 oysters collected from 19 Foveaux Strait locations found no presence of Bonamia ostreae DNA.
The conclusion is that Bonamia ostreae is currently present in Foveaux Strait, but is at low levels and has been found at an early stage of infection.
Bonamia in Foveaux Strait community meetings presentation – June 2021 [PDF, 1 MB]
Rāhui and the Controlled Area Notice
Following the Foveaux Strait discovery, on 30 March 2021, Ngāi Tahu and Biosecurity New Zealand enacted a rāhui and a Controlled Area Notice. They set out a small geographical area where people cannot fish for any marine species or dredge for oysters. In addition, the anchoring or ballasting/de-ballasting of any vessel in the area is not permitted. These activities could increase the risk of people spreading any disease present in the area.
All fishing activity, including oyster dredging, has been able to continue in other parts of Foveaux Strait.
Controlled Area Notice BRC 2021 [PDF, 820 KB]
Map of Bonamia controlled zones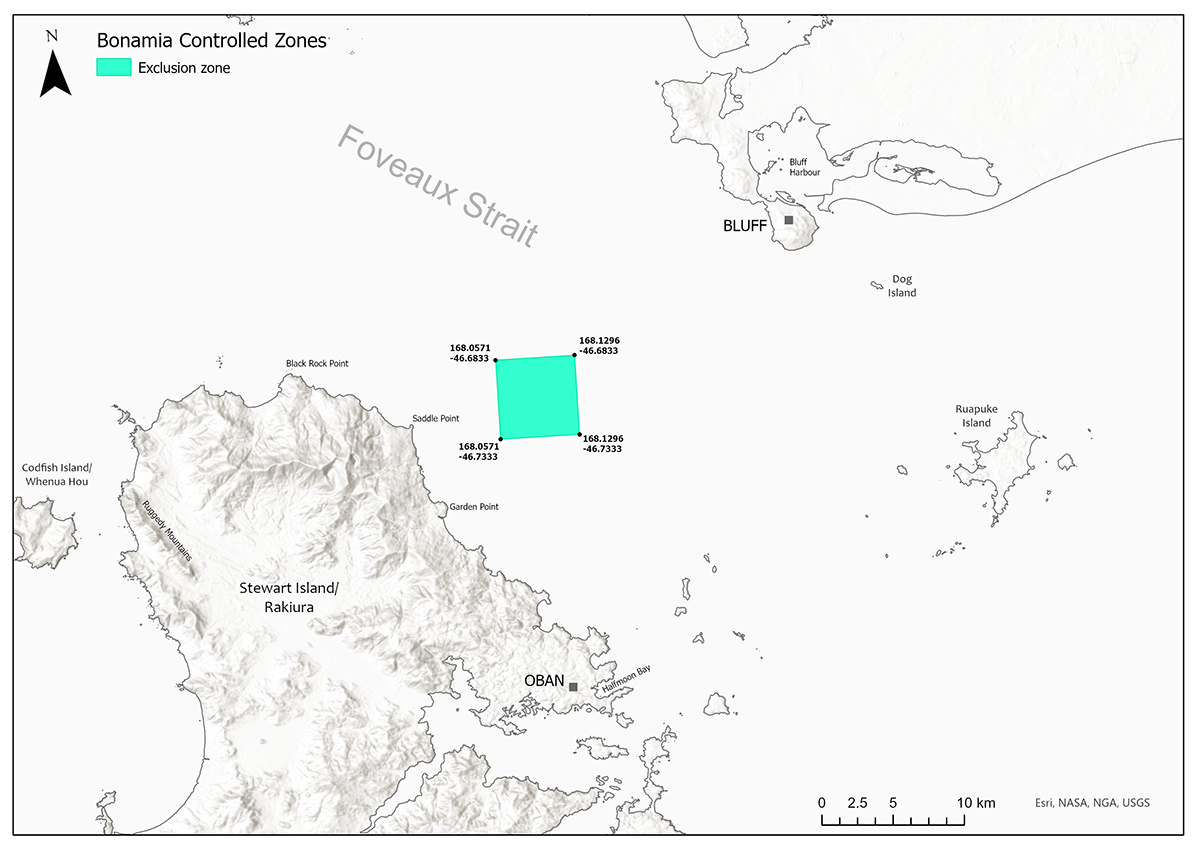 The coordinates for the exclusion zone area
46°40.998' S, 168°3.426' E OR 46°40'59.88" S, 168°3'25.56" E
46°40.998' S, 168°7.776' E OR 46°40'59.88" S, 168°7'46.56" E
46°43.998' S, 168°3.426' E OR 46°43'59.88" S, 168°3'25.56" E
46°43.998' S, 168°7.776' E OR 46°43'59.88" S, 168°7'46.56" E
The Exclusion Zone – prohibition on vessel activities
The Controlled Area Notice prohibits vessels anchoring and exchanging or discharging ballast water within the area of the Exclusion Zone.
Effect of the Controlled Area Notice
Along with the Foveaux Strait exclusion zone, the Controlled Area Notice restricts the movement of some shellfish species, and marine farm equipment and craft, into and out of Stewart Island. It also stops people from moving some shellfish species out of a designated contained zone (Nelson and Marlborough) and into a protected zone (Southland, Otago, and the Chatham Islands). It covers all life stages of these species, including their spat.
You may need a permit
You may need a permit to move restricted shellfish stock, or marine farm equipment and craft, into or out of zones covered by the Controlled Area Notice.
No food safety risk from bonamia
Bluff oysters are safe to eat. Bonamia ostreae presents no food safety risk and has no human health impacts. Fresh, good quality New Zealand oysters continue to be safe to eat.
Bonamia ostreae is a different species to Bonamia exitiosa, which has previously affected the Bluff oyster fishery. The oyster fishing industry has worked through that particular situation to maintain a sustainable fishery.
Support for those affected
Biosecurity New Zealand is committed to working with industry and Ngāi Tahu partners on this uncertain situation. We understand this may be stressful for those who derive their income from the fishery and the communities who value the taonga.
If people need support at this time, they can contact Fisher Support Services on 0800 23 74 38 (0800 ADRIFT) any time between 7am and 10pm. If it's an emergency crisis, phone 111.
How to spot Bonamia ostreae infection
It can be hard to spot the disease caused by Bonamia ostreae. Common symptoms in oysters are:
poor condition
gills that look corroded
yellow discolouration of the gills and mantle.
Bonamia ostreae can also cause widespread oyster deaths.
Flat oyster farmers, harvesters, and fishers should keep an eye out for these signs. If you see anything suspicious, call our Exotic Pest and Disease Hotline – 0800 80 99 66.
What you can do to prevent the spread
There are steps you can take to help prevent the spread of Bonamia ostreae. These are important if you're out on the water, collecting shellfish, or fishing in areas covered by the Controlled Area Notice.
The risk of spread increases if any shellfish, or their shells and waste, are moved from one area to another.
To protect our wild oysters from Bonamia ostreae:
keep your boat's hull clean
dispose of shells and shellfish waste at home or in a landfill – don't throw them overboard
return undersized or excess shellfish back to where you collected them
clean your fishing gear after you've finished collecting.
Long term management of Bonamia ostreae
MPI is leading the long-term management of Bonamia ostreae in New Zealand. An MPI-led governance group is in place and includes representatives from:
Biosecurity New Zealand
Aquaculture New Zealand
Fisheries New Zealand
Environment Southland
Awarua Runaka
Southland District Council
the Bluff wild oyster fishery.
The governance group will support a programme to:
maintain, and where necessary, review the Controlled Area Notice
monitor wild oyster populations and marine farms
find out if oyster farming can start again.
The programme includes twice-yearly surveillance to check for the spread of Bonamia ostreae. The programme also promotes biosecurity best practice.
Detection in 2020 of bonamia infection in wild oysters from Big Glory Bay
Seven oysters from a routine surveillance sample of 50 collected from Big Glory Bay on Stewart Island tested positive for infection with Bonamia ostreae in late October 2020.
This detection demonstrated beyond doubt that the parasite is present in the bay and showed that the 2017 removal of flat oyster farms in Big Glory Bay to protect the nearby Foveaux Strait wild oyster fishery was appropriate.
At this time (October 2020), no bonamia was found in other surveillance samples taken from Horseshoe Bay in Stewart Island, Paterson Inlet, Foveaux Strait, Bluff Harbour, Cloudy Bay, Tasman Bay, and the Chatham Islands.
Future of farming – Technical Advisory Group report
A Technical Advisory Group (TAG) was formed in September 2019. The TAG looked at whether flat oyster farming poses a risk to wild oyster populations and the Bluff oyster fishery. A report was written to give the Bonamia governance group the information they need to recommend if, where, and when flat oyster farming might start again.
Future of farming – Technical Advisory Group report [PDF, 1.3 MB]
When the governance group received the TAG report they made some preliminary recommendations.
Preliminary recommendations [PDF, 444 KB]
No decisions will be made on the future of flat oyster farming without feedback from those it affects.
Consultation is being planned for late 2021.
Media release 23 July 2020: Consultation planned on future of flat oyster farming
MPI's initial biosecurity response to Bonamia ostreae
MPI's response to Bonamia ostreae started in 2015 when the parasite was found in oysters from the Marlborough Sounds. In early 2017, Bonamia ostreae was also found in Stewart Island.
On 12 June 2017, MPI delivered a notice of direction to flat oyster farmers in Big Glory Bay in Stewart Island and Marlborough. This notice required the removal of all flat oyster stocks. All farms had been removed by late 2017.
Notice of Direction Big Glory Bay [PDF, 484 KB]
Notice of Direction Marlborough [PDF, 464 KB]
Fact sheet about Bonamia ostreae response [PDF, 297 KB]
Surveys are carried out twice a year to test for Bonamia ostreae in oysters from around the South Island and Chatham Islands.
Bonamia ostreae investigation report [PDF, 4.2 MB]
Report of the Technical Advisory Group on resilience breeding in flat oysters [PDF, 616 KB]