THE PLAN'S VISION
"New Zealand is acknowledged as a global leader in the use of forests, and local communities are empowered through meaningful employment. The sector and our forests are resilient and diverse, and wood underpins our low emissions future. "
Making better use of our forestry resources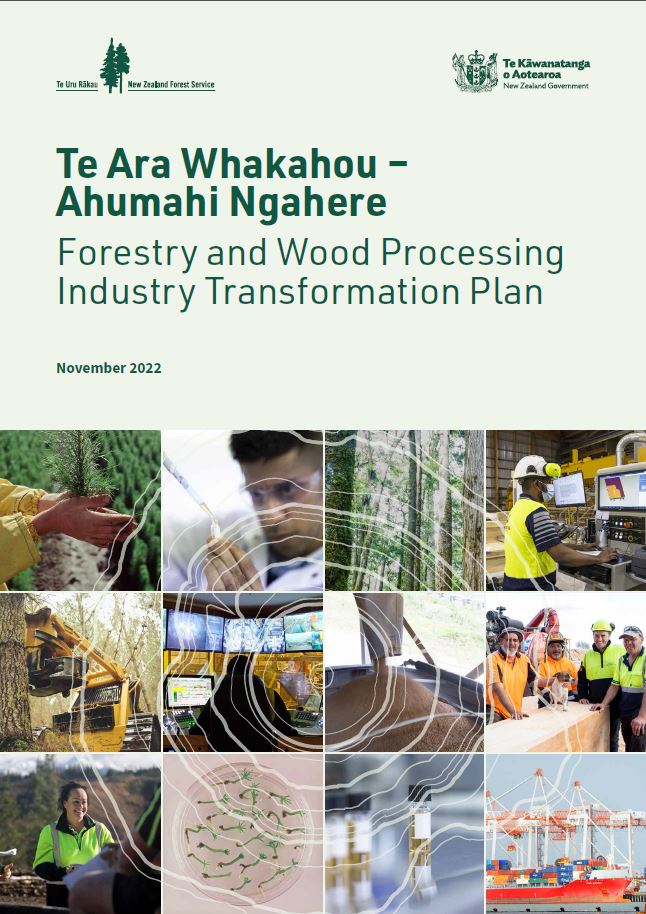 The plan aims to support us to make better use of our forestry resources by processing more wood onshore, producing more high-value wood products, and using residues to grow the forest-based bioeconomy.
This will:
create more higher-paid jobs
build resilience in the sector
support our climate change goals.
The Forestry and Wood Processing Industry Transformation Plan [PDF, 11 MB]
The plan is based around 4 priority areas
Create the foundations for a transformed sector: Transformation will require a greater level of collaboration across the sector, the right skills, the right regulatory settings and the science system all working in concert.
Grow forests and supply wood for the future: Diversifying and improving the productivity of our plantation forests will improve the resilience of the sector, drive growth and innovation, and expand the range of wood products we can produce.
Modernise and expand domestic wood processing: Processing more wood onshore will enable New Zealand to produce more and a larger range of high-value sustainable products and will create jobs in the regions.
Develop sustainable markets for high-value wood products: Diversifying our export markets and product mix will improve the sector's resilience to economic shocks and help meet demand from the construction sector at peak times.
Plan to boost value & lift sustainability of NZ forestry sector – Government media release
Cabinet papers
Releasing the final Forestry and Wood Processing Industry Transformation Plan [PDF, 705 KB]
Releasing the draft Forestry and Wood Processing Industry Transformation Plan for public consultation [PDF, 5.8 MB]
How we developed the plan
We released a draft Forestry and Wood Processing Industry Transformation Plan for consultation on 19 August 2022. Consultation closed on 30 September 2022.
Consultation on the draft Forestry ITP
Te Uru Rākau – New Zealand Forest Service partnered with a range of groups to inform the draft plan, including:
Forestry and Wood Processing ITP advisory group
Forestry Ministerial Advisory Group
Farm Foresters Association
Forest Owners Association
Wood Processing and Manufacturing Association
Bioenergy Association
New Zealand Institute of Forestry
Ngā Pou a Tāne
New Zealand Timber Industry Federation.
Summary of the data that supported the draft Forestry ITP [XLSX, 301 KB]
Work is already happening
Some actions in the plan are already under way as funding was available.
One of these, a new industry advisory service (the Timber Design Centre), was launched in March 2022. The centre gives advice on timber use in the design and construction of buildings. Its focus is on structures such as offices, hotels, and multi-storey apartments.
Media release: Timber Design Centre to enable innovative building (2 March 2022)
Enabling sector transformation
Alongside the industry transformation plan, the sector is investing to kick-start a range of initiatives outlined in the plan. When the plan was launched, the Government announced it would invest an initial $2.5 million plus another $1 million from industry contributions, for the first set of initiatives which include:
providing support for a Māori forestry strategy
a diversification programme to improve the opportunities for non-radiata species to be grown and milled in New Zealand
establishing New Zealand's first post-graduate qualification in wood processing
scaling up the 'Wood – Our Low-Carbon Future' campaign that demonstrates the benefits of low-carbon products derived from locally grown logs
research that identifies how the use of wood products can be increased, by improving standards, and options to recognise the benefits of carbon stored in wood products
a business case for a new facility to support commercialisation of bio products.
More detail on these and other potential projects will be made available as they are finalised.
Forestry and Wood Processing Industry Transformation Plan Advisory Group
We partnered with an advisory group to help develop the Forestry and Wood Processing Industry Transformation Plan. The group is made up of leaders representing the industry, workforce, science institutions, and Māori. The group meets regularly to discuss the objectives of the plan and the policy options to achieve them.
Lees Seymour, who has decades of experience in the sector and is the managing director of the Nelson Consulting Group, is independent group chair of the advisory group. Other members are:
Bruce Habgood – convenor of the Engineering, Infrastructure and Extractives Industry Council, E tū
Clayton Harris – chief executive, Carter Holt Harvey
Daniel Gudsell – founding director, Abodo Wood
David Turner – executive director, Sequal Lumber
Dean Satchell – land management advisor, Northland Regional Council
Florian Graichen – general manager, Forest to Biobased Products, Scion
Jon Ryder – chief executive officer, Oji Fibre Solutions
Kent Chalmers – market and logistics manager, City Forests
Louisa Jones – assistant general secretary, First Union
Marty Verry – group chief executive, Red Stag Timber, Red Stag Forests, Red Stag Wood Solutions
Megan Struthers – associate director, business development, New Forests Asset Management Pty Limited
Robert Green – managing director, Australasia Timberland Operations, Hancock Natural Resources Group
Te Kapunga Dewes – Te To (chief executive), Whenua Oho
Tony Haworth – investment manager, Te Taurapa Tūhono New Zealand Trade & Enterprise
Vanessa Eparaima – director of CNI Iwi Holdings Ltd, chair of Te Wānanga o Aotearoa.
Research reports to support development of the plan
For more information about the reports, email ForestryWoodProcessingITP@mpi.govt.nz
Who to contact
If you have questions about the plan or advisory group, email ForestryWoodProcessingITP@mpi.govt.nz