Have your say
Fisheries New Zealand is seeking feedback on a draft fisheries plan for the 3 southern pāua fisheries:
Fiordland (PAU 5A)
Stewart Island (PAU 5B)
Southland/Otago (PAU 5D).
The draft plan has been developed by PAU 5 Industry Association Incorporated (PauaMAC5) on behalf of all PAU 5 quota owners, ACE (annual catch entitlement) holders, and commercial harvesters. The draft plan has been submitted to the Minister for Oceans and Fisheries for approval.
Submissions are open until 11 October 2022.
What's being proposed?
Voluntary arrangements have been part of the pāua industry's management and decision-making in the PAU 5 fisheries for many years. The pāua industry seeks to make these arrangements more formal by developing an approved fisheries plan.
The draft plan sets objectives, strategies, and actions that will be undertaken primarily by the pāua industry in addition to existing government management settings, which include total allowable commercial catch limits and current regulatory measures (such as the minimum legal size).
The draft objectives are to:
support and enhance sustainability of the pāua stocks
protect important pāua habitats
enhance industry performance.
Under section 11A of the Fisheries Act 1996, the Minister for Oceans and Fisheries may approve a fisheries plan to support the purpose and principles of the Act.
Map of pāua fisheries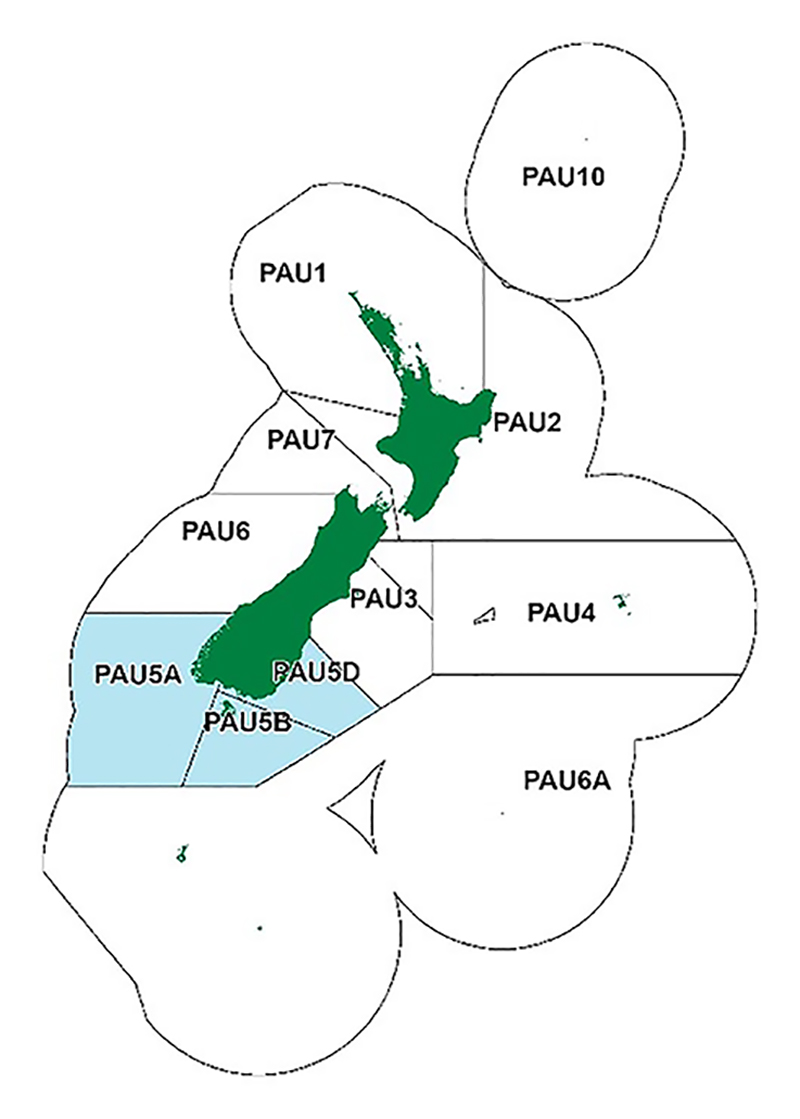 Consultation documents
Draft fisheries plan for the pāua fisheries PAU 5A, PAU 5B and PAU 5D [PDF, 1 MB]
Letter to the Minister for Oceans and Fisheries [PDF, 128 KB]
Making a submission
Send us your feedback by 5pm on 11 October 2022.
Email your submission to FMsubmissions@mpi.govt.nz
While we prefer email, you can post your submission to:
Inshore Fisheries Management
Fisheries New Zealand
PO Box 2526
Wellington 6140.
What to include
Make sure you tell us in your submission:
the title of the consultation document (for email, use "Draft Pāua 5 fisheries plan" in the subject line)
your name and title
your organisation's name (if you are submitting on behalf of an organisation, and whether your submission represents the whole organisation or a section of it)
your contact details (such as phone number, address, and email).
Submissions are public information
Note that all, part, or a summary of your submission may be published on this website. Most often this happens when we issue a document that reviews the submissions received.
People can also ask for copies of submissions under the Official Information Act 1982 (OIA). The OIA says we must make the content of submissions available unless we have good reason for withholding it. Those reasons are detailed in sections 6 and 9 of the OIA.
If you think there are grounds to withhold specific information from publication, make this clear in your submission or contact us. Reasons may include that it discloses commercially sensitive or personal information. However, any decision MPI makes to withhold details can be reviewed by the Ombudsman, who may direct us to release it.