Proposed fisheries bylaws for the Te Hoe Mātaitai Reserve, Māhia
Have your say
The Tangata Kaitiaki/Tiaki of the Te Hoe Mātaitai Reserve, Māhia, and Fisheries New Zealand are seeking submissions on proposed bylaws for the southern portion of the mātaitai.
The closing date for submissions is 12 November 2021.
Once the Tangata Kaitiaki/Tiaki has considered any public submissions, it will finalise the proposed bylaws and then ask for approval from the Minister for Oceans and Fisheries.
Background
Regulation 28(1) of the Fisheries (Kaimoana Customary Fishing) Regulations 1998 allows the Tangata Kaitiaki/Tiaki of the Te Hoe Mātaitai Reserve to make bylaws restricting or prohibiting the take of fisheries resources for the purpose of sustainable utilisation.
The proposed bylaws will apply to non-commercial fishing. Commercial fishing is already excluded from the mātaitai.
Objectives of the proposed bylaws
The Tangata Kaitiaki/Tiaki of the Te Hoe Mātaitai Reserve believe bylaws are necessary to protect their mahinga kai shellfish species, specifically kina, rock lobster, mussels and pāua.
The Tangata Kaitiaki/Tiaki have noticed a serious decline in the number and size of shellfish species in their rohe moana from Waikokopu to Opoutama within the Te Hoe Mātaitai Reserve. They are also concerned about the impact of land-based activities on the near shore reefs, the high accessibility of the reefs by non-commercial fishers, and increasing illegal fishing activities.
The Tangata Kaitiaki/Tiaki plan to monitor the health of the shellfish beds to see how they respond to the proposed bylaws to inform future community management of the species.
Proposed bylaws
A person must not take any of the following species from Waikokopu to Opoutama within the Te Hoe Mātaitai Reserve:
kina
kōura (rock lobster)
kuku (mussels)
pāua.
Map of the Waikokopu to Opoutama area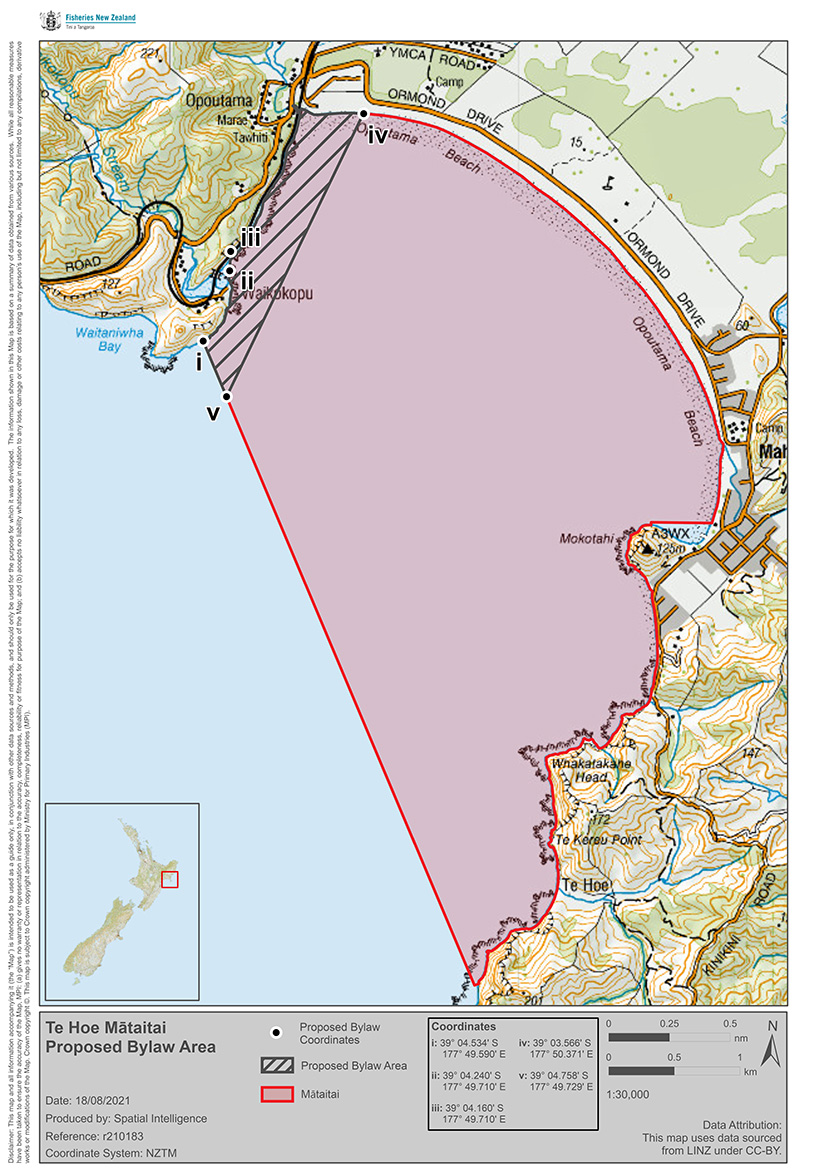 Making your submission
Send us your submission by 5pm on 12 November 2021.
Email your submission to FMSubmissions@mpi.govt.nz
While we prefer email, you can post your submission to:
Inshore Fisheries Management
Fisheries New Zealand
PO Box 2526
Wellington 6140
New Zealand.
If you require any other information, email FMSubmissions@mpi.govt.nz
What to include
Make sure you tell us in your submission:
the title of the consultation
your name and title
your organisation's name (if you are submitting on behalf of an organisation, and whether your submission represents the whole organisation or a section of it)
your contact details (such as phone number, address, and email).
Submissions are public information
Note that any submission you make becomes public information. People can ask for copies of submissions under the Official Information Act 1982 (OIA). The OIA says we have to make submissions available unless we have good reasons for withholding them. That is explained in sections 6 and 9 of the OIA.
Tell us if you think there are grounds to withhold specific information in your submission. Reasons might include that it's commercially sensitive or it's personal information. However, any decision MPI makes to withhold information can be reviewed by the Ombudsman, who may direct us to release it.
MPI may post all or parts of any written submission on its website. We'll consider that you have consented to its publication, unless clearly stated otherwise in your submission.