Te Pātuitanga Ahumoana a Kiwa
Partnerships in Pacific Fisheries
Partnerships in Pacific Fisheries
Find out about the work we do to help Pacific Island government fisheries administrations.
What we do
Te Pātuitanga Ahumoana a Kiwa (Te Pātui) is a programme run by the Ministry for Primary Industries (MPI). We work with Pacific Island fisheries administrations to strengthen capacity to manage their fisheries. We focus on:
governance
management
monitoring, control, surveillance, and enforcement.
Since 2011, we've partnered with fisheries officials in 15 Pacific Island countries and territories (PICTs).
Find out more about Te Pātui's work and services [PDF, 173 KB]
How we work
Te Pātui advisers work directly with PICT fisheries staff to provide:
personal learning and development opportunities
solutions that are specific to fisheries needs in the Pacific.
Some of the ways Te Pātui does this include:
training through workshops, seminars, and informal sessions
providing advice and mentoring
attachments (PICT fisheries staff working directly alongside New Zealand staff).
Te Pātui advisers usually travel to work with our PICT colleagues face-to-face. But online or remote support is also available.
Find out more about our services
Training
Toggle expandable
To help build the knowledge and skills of fisheries staff in the Pacific, we run:
workshops
training sessions
seminars.
Training focuses on fisheries fundamentals and best practices, and encourages peer-to-peer learning.
Types of training available
Training includes:
developing fisheries' management policy and plans
data analysis for reporting and decision-making
high seas boarding and inspection training.
1. Developing fisheries' management policy and plans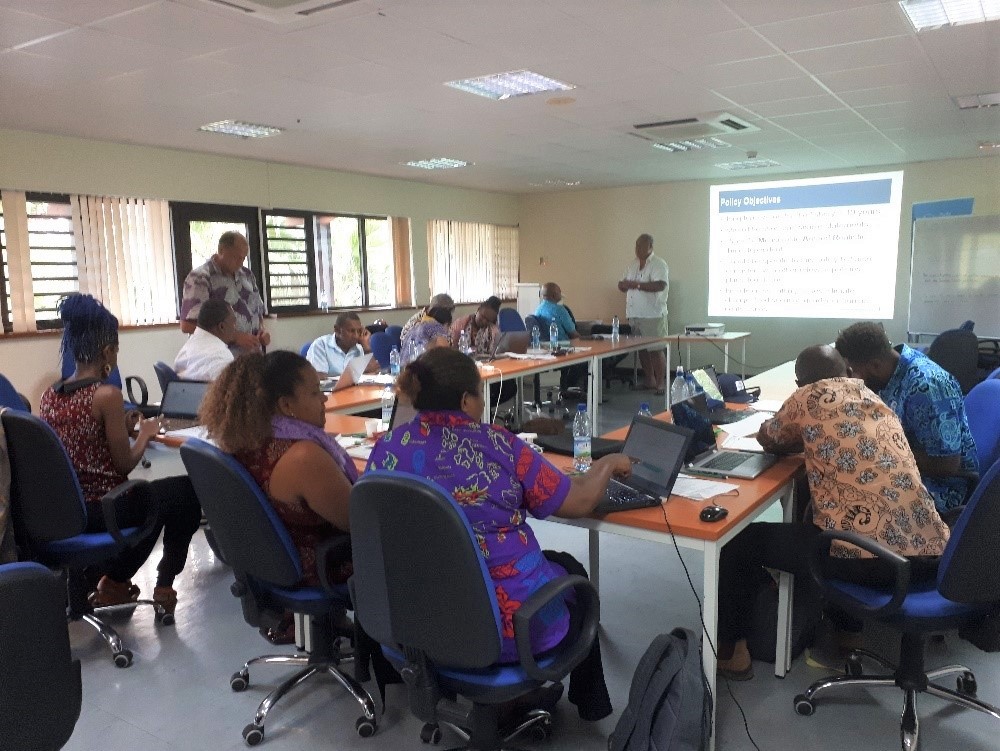 In this one-week workshop, we:
discuss the role of policy and plans in managing a fishery
discuss how the policies and plans are implemented
link the plans to laws, regulations, and other policies
work with PICT fisheries staff to develop a draft policy or management plan
work together with regional agencies.
Te Pātui staff have run workshops for fisheries agencies in single countries and for multiple countries.
Workshops for multiple countries bring fisheries agencies from around the Pacific together to learn and share experiences.
2. Data analysis for reporting and decision-making
So far, we've held these workshops in:
Fiji (with the coastal fisheries data collectors)
Federated States of Micronesia (with offshore fisheries staff)
New Zealand, where various countries participated.
3. High seas boarding and inspection training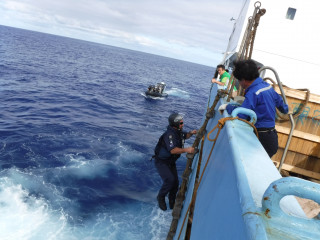 This course focuses on:
relevant processes and procedures
the skills needed for boarding and inspections of fishing vessels on the high seas under the Western Central Pacific Fisheries Commission Conservation and Management Measures.
We've run courses for:
fisheries compliance and enforcement staff
maritime Police and Navy boarding officers from different Pacific Island countries.
Advice and mentoring
Toggle expandable
We provide advice and mentoring on:
fisheries management processes and systems
monitoring, control, and surveillance.
We do this through one-on-one mentoring and group mentoring. Mentoring is either short-term or long-term, depending on what's needed.
Attachments (placements)
Toggle expandable
Through Te Pātui, Pacific Island fisheries staff can do placements within MPI or other New Zealand organisations. This can be for a few days, or for several weeks. The staff (attachés) work alongside an employee or team on relevant fisheries tasks and issues. This helps with developing skill and knowledge, and with sharing experience and ideas.
Customary fisheries attachment
Fisheries staff from Fiji and Vanuatu joined MPI to work with the customary fisheries management team. This involved attachés learning about:
how we work with Māori communities
customary fishing rights, and the policy and regulations that guide how these fisheries are managed
monitoring, control, and surveillance practices in New Zealand's customary fisheries (and how these related to their own countries' traditional fisheries).
Remote assistance
Toggle expandable
Te Pātui continues to work with PICT staff after face-to-face training is completed. We do this through email, phone, and using other online services.
Case study: How we've supported Tonga
We've worked with Tonga's Ministry of Fisheries since Te Pātui began (around 2011). Some of our work (since 2015) has been around their deepwater snapper fishery. This work has seen many in-person meetings and discussions to develop management approaches and fisheries management plans. It has also seen regular remote assistance to the team in Tonga, progressing monitoring, evaluation and learning throughout this management plan's lifespan.
The team undertook mid-term and final reviews of the previous management plan, reporting back to the ministry what its achievements were, and where the ministry needed to focus more efforts. This type of work is rarely completed due to the heavy workloads by often under-resourced administrations. It shows Tonga's commitment to continually improving it processes.
The work on the deepwater snapper fishery was funded by the Ministry of Foreign Affairs and Trade. It was led by NIWA (the National Institute of Water and Atmospheric Research).
Ministry of Foreign Affairs and Trade
Online e-learning modules
Toggle expandable
Te Pātui is developing online fisheries training modules. These will support the face-to-face activities we do. These modules will cover both the fundamentals of fisheries management, monitoring, control and surveillance, and more specialised topics. We'll provide fisheries case studies from both the Pacific and other parts of the world.
People using the modules will be able to:
build on their knowledge

share experiences
get tools to implement what they learn in their home countries.
Our expertise
Te Pātui advisers have expertise in:
fisheries management (and its processes)
policy and planning
monitoring, control, and surveillance
marine science
regulatory review
compliance and enforcement (coastal and offshore)
investigation
prosecution.
Advice and training in other areas
If required, more MPI staff with additional skills can be called on. For example, they could advise or train in areas such as:
cost recovery

fishery observer training
intelligence analysis.
We also draw on external expertise to deliver training and advice in other areas, including:
project management
professional writing skills
training for trainers.
Working with other organisations
We work with the Pacific Community (SPC), an intergovernmental development organisation, to deliver training on coastal fisheries and the Pacific Islands Forum Fisheries Agency (FFA) on offshore fisheries topics.
Pacific Islands Forum Fisheries Agency
Funding for Te Pātui
Te Pātui is run by the Ministry for Primary Industries (MPI). It's funded by the Ministry of Foreign Affairs and Trade (MFAT) through the New Zealand Aid Programme.
Who to contact
If you have any questions about the programme, email TePatui@mpi.govt.nz