About small hive beetle
Small hive beetle (Aethina tumida) is a pest of honey bees. It is native to sub-Saharan Africa where it is easily managed. It was only when small hive beetle was introduced into other countries that it has caused harm to honey bees.
Small hive beetle is not present in New Zealand. It is a notifiable organism, which means sightings of small hive beetle should be reported as soon as possible to Biosecurity New Zealand by:
The larvae of small hive beetle cause the most damage. They tunnel through comb and consume honey, brood, and pollen. The larvae also spread a yeast, called Kodamaea ohmeri, which ferments and spoils honey and may pose a risk of causing infection in humans.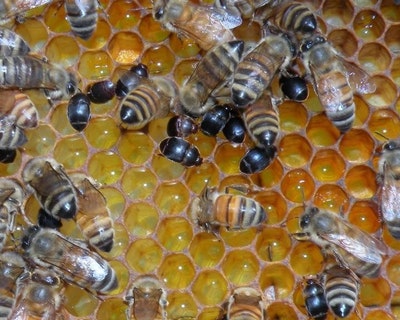 How small hive beetle could arrive
Small hive beetle could reach New Zealand as a hidden stowaway on a range of goods. Pupae and larvae can slow their own growth which means they can hide out for long periods of time – weeks to months – before they emerge as adults. Adult beetles are capable of flying up to 15 kilometres, so could easily move between apiaries.
Download the small hive beetle (Aethina tumida) fact sheet [PDF, 548 KB]
About the small hive beetle surveillance project
Early detection of the small hive beetle, and other bee pests and diseases, is an important part of our biosecurity system. Every beekeeper has a responsibility to look out for and report bee pests or diseases.
Find out about bee pests and diseases
The small hive beetle surveillance project focuses on trapping adult small hive beetles. The project will also teach beekeepers about small hive beetle to help detect an incursion of the beetle if they were to arrive in New Zealand.
Biosecurity New Zealand has an apiculture surveillance programme that looks for exotic (not found in New Zealand) bee pests and diseases every year in "sentinel" hives around the country. These sentinel hives are highly monitored and create an early warning system to alert beekeepers to any potential issues. The small hive beetle project will add to this programme.
Find out about the apiculture surveillance programme
How the project works
Volunteer beekeepers will maintain traps for the exotic beetle in sentinel apiaries throughout New Zealand. If they come across any suspect organisms during their routine checks, they will report these to Biosecurity New Zealand right away.
As this is a pilot study, spaces have been limited to a set number of beekeepers. You can express your interest in taking part in the pilot and for future surveillance activities by emailing Bee.Coordinator@mpi.govt.nz
Biosecurity New Zealand will supply everything needed to volunteer beekeepers as part of the project, including small hive beetle traps.
The project finished in April 2023, with a summary report that outlines the project's success of no small hive beetle reports, 3 project's findings, beekeeper feedback, and future recommendations.
Small Hive Beetle Surveillance Project Project Report 2023 [PDF, 722 KB]
You don't need to be part of this project to report small hive beetle – every beekeeper in New Zealand has a legal duty to report any detection of small hive beetle. If you think you have seen a small hive beetle:
Find out more about how to report a pest or disease
What to do if you think you have small hive beetle in your trap
What to do if you think you have small hive beetle in your beehive
Who to contact
If you have questions about the small hive beetle surveillance project, email Bee.Coordinator@mpi.govt.nz