Why on-board cameras?
Cameras are a key part of the long-term health and resilience of our marine ecosystems. The independent information they provide supports:
the reputation of our fishing industry
the sustainability of our fisheries
more confident management decisions.
Cameras have been used on commercial fishing vessels around the world for decades. We have learned a lot from overseas fisheries that are already using these systems. It's the next step towards a more data-driven and responsive fisheries management system.
Protecting your privacy
Fisheries New Zealand is committed to ensuring the privacy, security, and confidentiality of all the information we collect, hold, and use. Find out how we'll manage the information we collect through on-board cameras and how it will be protected.
Next steps for fishers and installation process
For owners and operators of vessels that need to have cameras installed, below is a step-by-step guide for what happens next and how the installation process works.
Phone call to confirm vessel is in-scope – Vessel owners/operators will be contacted by Spark's installers to confirm that the vessel is in-scope to have cameras installed. If the need for cameras is confirmed, then a time will be booked for an onboard assessment to confirm the installation specifics. We expect to begin contacting Priority 1 vessel owners during late July and early August 2022.
Onboard installation assessment – Spark's installers will conduct an onboard assessment with vessel owners/operators. Spark will confirm the practical details prior to installation (such as camera locations and power sources).
Vessel installation plan – Following the assessment, Spark's installers will create a detailed installation plan. A copy will be provided to the vessel owner/operator to approve and a copy filed with Fisheries NZ.
Installation booked – Based on the details of the vessel installation plan and the timeframes agreed with the vessel owner/operator, Spark's installers will contact the vessel owner/operator to confirm an installation date.
Installation of on-board camera system – Spark's installers will then install the camera system at the time agreed with the vessel owner/operator.
Support resources – At the time of installation, vessel owners/operators will also be provided with a quick reference guide and an onboarding kit containing general information for crew, operational details of the cameras, signage, and answers to frequently asked questions.
24/7 ongoing support – A 24-hour, 7-day support desk is available through a dedicated phone number should there be any issues with the system after it is installed. Callers will be able to speak to an actual person anytime they need to ring this number.
Things to note
Fisheries New Zealand has engaged Spark business group to provide the technology, the cameras, the software, and the transmission process. Spark's installers will carry out the installation process on each vessel.
Skippers will be able to see what is being recorded by the cameras, through an on-vessel monitor that is installed for their use. This monitor will also display the available memory and any relevant system messages for the skipper.
The system requires minimal interaction from skippers. It is a closed, automated system that requires no manual operation, apart from a brief system check at the beginning and end of each trip.
Camera locations will be confirmed with skippers prior to installation and will focus only on areas where relevant fishing activity takes place.
Footage uploading will also occur automatically when the boat is in range of a 4G network connection. This means that skippers will not need to manually send storage drives to MPI as part of the usual operation of the system.
Sample images
The following images provide some examples of the actual camera system that will be installed, sample images of the camera system, and examples of the footage they can capture.
If you have any further questions, email onboardcameras@mpi.govt.nz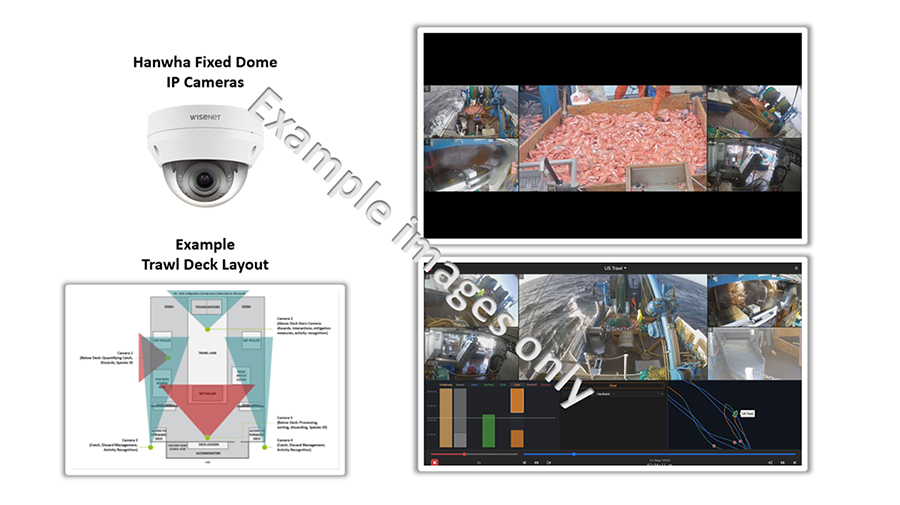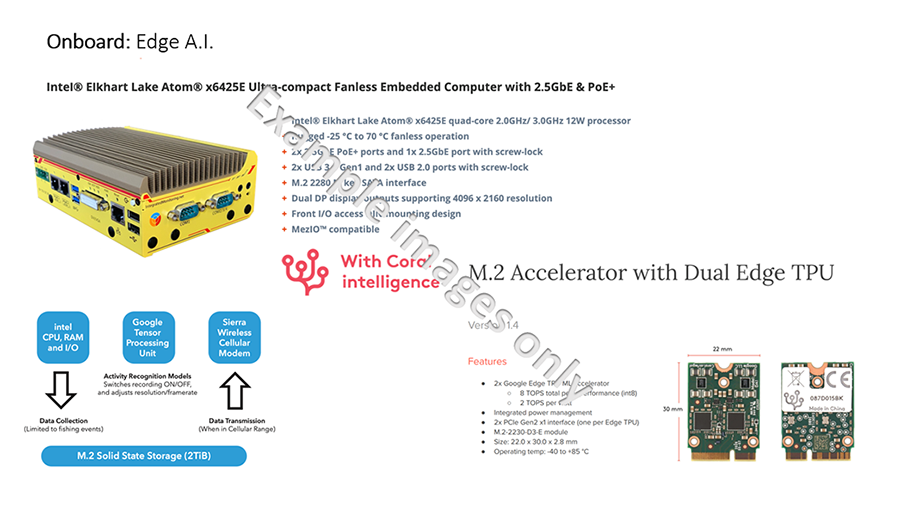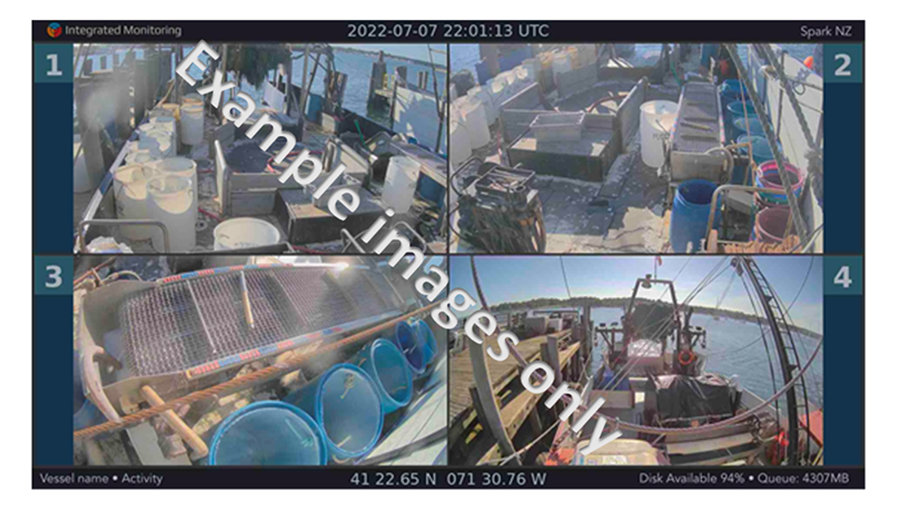 Wider rollout of on-board cameras
On 17 June 2021, the Minister for Oceans and Fisheries announced that up to 300 inshore fishing vessels will be fitted with cameras by the end of 2024.
This followed an initial proof of concept that saw cameras placed on a few vessels in 2019.
On 25 May 2022, the government confirmed the details of the wider rollout:
Cameras will be installed on up to 300 vessels based on the fishing methods used, locations fished, and risk posed to protected species.
The installation sequence will begin in the second half of 2022 with trawl and set net vessels fishing off the west coast of the North Island.
A total of about $10 million will be recovered from quota holders over the 2023 to 2024 and the 2024 to 2025 fishing years. No contribution will be sought during the 2022 to 2023 fishing year.
Following the transition period, from the 2025 to 2026 fishing year cost recovery from industry will be aligned with standard fisheries cost recovery provisions, with the amount to be levied determined closer to the time.
The installation of on-board cameras will take about 24 months to complete.
Government media release: Rollout of cameras on fishing vessels to begin – Beehive
Vessels that will have cameras installed
All inshore vessels using these fishing methods will have cameras installed:
surface longline
bottom longline
purse seine
Danish seine.
Cameras will also be installed on:
trawl vessels less than or equal to 32 metres in length except those targeting scampi
set net vessels greater than or equal to 8 metres in length.
Cameras are not required on:
deepwater trawl vessels
inshore vessels that fish low volumes
vessels with more selective fishing methods that pose less risk to protected species.
TIMELINE FOR INSTALLING ON-BOARD CAMERAS
We have confirmed a priority order for installation. Cameras will first be placed on vessels that pose the greatest risk to protected species. Cameras need to be installed and begin transmitting footage from these dates:
30 November 2022
1. inshore trawl and set net vessels fishing off the west coast of the North Island
14 June 2023
2. set net vessels fishing off the north, east and south coasts of the South Island
3. inshore trawl vessels fishing off the north, east, and south coasts of the South Island
29 November 2023
4. all surface longline vessels fishing anywhere in New Zealand
5. bottom longline vessels fishing in northern New Zealand
5 June 2024
6. all remaining bottom longline vessels
7. all remaining inshore trawl vessels
27 November 2024
8. all remaining set net vessels
9. all purse seine vessels
10. all Danish seine vessels.
We'll provide more specific information about the rollout soon.
Spark Business Group confirmed as the supplier of on-board cameras
Fisheries New Zealand has selected Spark Business Group as our supplier for the cameras. Spark Business Group is well experienced with this technology and is working closely with Fisheries New Zealand and industry representatives to design the broader rollout approach.
We will ensure fishers are closely involved in the design of the rollout approach to ensure there is as minimal disruption as possible. We plan to hold a series of workshops and training sessions ahead of any installations. We'll provide more details about these events soon.
Cabinet papers and other information relating to the decision
Wider rollout of on-board cameras on commercial fishing vessels: Proposals for regulatory change [PDF, 900 KB]
Regulatory impact statement: Wider rollout of on-board cameras [PDF, 1.8 MB]
Wider rollout of on-board cameras consultation: Summary of responses [PDF, 1.1 MB]
Financial report
To inform advice on the wider rollout of on-board cameras, Fisheries New Zealand commissioned independent research into the financial structure and profitability of the inshore fishing industry. This research was a desktop study and the results provide a high level view of cost structures and profitability of fishers. It used various data sources, including data provided by Fisheries New Zealand. This data has certain caveats and limitations that must be taken into account when considering the research findings.
Given the diverse and complex business structures in the fishing industry, the results may not reflect the financial position of actual fishing businesses.
Financial analysis of inshore fisheries: Profitability and cost incidence of the wider rollout of the on-board cameras programme [PDF, 2.5 MB]
On-board camera regulations
Fisheries (Electronic Monitoring on Vessels) Regulations 2017 – NZ Legislation
Fisheries (Electronic Monitoring on Vessels) Amendment Regulations 2020 – NZ Legislation
Find out more
For information about the initial proof of concept, privacy provisions, and other matters, refer to:
The 2019 proof of concept for the rollout of on-board cameras
Who to contact
If you have questions about on-board cameras for commercial fishing vessels, email onboardcameras@mpi.govt.nz