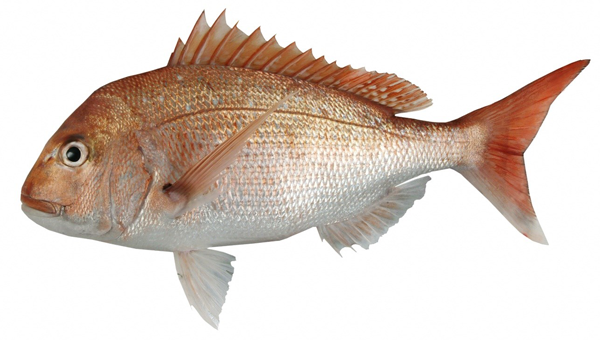 Snapper affected by milky white flesh syndrome
In 2022, we got reports of snapper and some other species with milky white or mushy flesh. We have run tests and are investigating the issue.
About snapper
Māori names: tāmure, kouarea
Scientific name: Pagrus auratus
Snapper are copper-pink on top with a silver-white underside and small blue dots on their sides.
They are:
most commonly found at depths of 15m to 60m but can also be found down to about 200m
most common in warmer waters around New Zealand – especially in the Hauraki Gulf
the dominant fish in northern inshore communities
at home in a wide range of habitats, including rocky reefs and areas with sandy or muddy bottoms.
Snapper mature at 3 to 4 years, when they're 20cm to 28cm long. They can live for more than 60 years and grow up to 105cm. They release many batches of eggs all through spring and summer.
Fishing rules for snapper
The fishing rules for snapper and other fish are different around different parts of the country and can change. They can also change over time. Make sure to check the rules for your area every time before you go fishing.
Find the fishing rules for your area
Snapper status and how we manage snapper fishing
There are 6 fishery management areas for snapper. Each area has a different catch limit. This changes depending on how healthy the snapper numbers are there, and what effects fishing is having on them.
2016 catch allowances (tonnes)
Snapper are managed under New Zealand's Quota Management System (QMS). By controlling the amount of fish taken from each area, the QMS helps keep fisheries sustainable.
The QMS sets a yearly catch limit (total allowable catch) for snapper in each area. From the total allowable catch (in tonnes), an allowance is made for recreational and customary fishing, and other fishing-related deaths. The number of tonnes remaining is what commercial fishers can catch.
What the allowances were for each group in 2016
| Area | Total allowable catch | Commercial allowance | Customary allowance | Recreational allowance | Other mortality² |
| --- | --- | --- | --- | --- | --- |
| SNA 1 | 8050 | 4500 | 50 | 3050 | 450 |
| SNA 2 | 450 | 315 | 14 | 90 | 31 |
| SNA 3 | –¹ | 32.3 | – | – | – |
| SNA 7 | 306 | 200 | 16 | 90 | – |
| SNA 8 | 1785 | 1300 | 43 | 312 | 130 |
| SNA 10 | – | 10 | – | – | – |
¹ Areas marked '–' have no allowance set (not enough information is available to set catch allowances).
² Fishing-related mortality from all sectors such as discarding and poaching.
Status of snapper in the SNA 1 fishing area
These graphs show stock size for SNA 1 – the largest snapper fishery management area (by number of fish caught). Snapper numbers started decreasing in the 1980s when modern commercial fishing methods were introduced. Those methods meant a lot more fish were caught. However, snapper numbers started to recover in the 1990s. Fisheries New Zealand is managing SNA 1 to keep rebuilding snapper numbers. We'll do this until numbers are at around 40% of their original levels before modern fishing methods were introduced.
Apart from fishing, the amount of fish in SNA 1 is affected by:
the number of young fish entering the fishery, and
environmental factors like water temperature.
Report poaching
You can report poaching, suspicious, or illegal activity online:
Report illegal fishing (such as poaching)
You can also:
You can help us by providing:
the location
vehicle/trailer registration number
boat name
description of the person
When reporting any suspected poaching put your personal safety first. All calls and personal details are treated as confidential.
Who to contact
If you have questions about the information on this page, email info@mpi.govt.nz