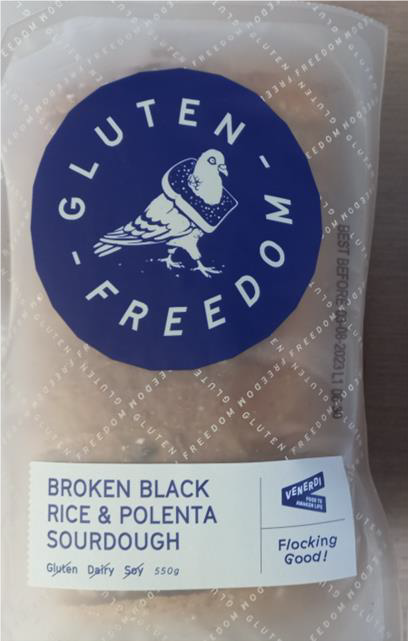 Product identification

Product type

Bread

Name of product (size)

Gluten Freedom brand Broken Black Rice & Polenta Sourdough (550g)

Date marking

Best before 03-08-2023, 07-08-2023, 08-08-2023 & 14-08-2023

Package size and description

The product is sold in plastic 550g packet.

Distribution

The products are sold in supermarkets nationwide.

Notes

This recall does not affect any other Gluten Freedom brand products.
Point of sale notice for retailers
If you are a retailer of the products in this recall, download a copy of the point of sale notice. You need to display it in your store for one month.
Point of sale notice [PDF, 98 KB]
Consumer advice
Customers are asked to check the date marking on the packaging.
People with a sesame allergy should not consume these products. If you have consumed any of these products and have any concerns about your health, seek medical advice. If you are not allergic to sesame this recall does not affect you.
Customers with a sesame allergy should return the products to their retailer for a full refund.
Who to contact
If you have questions, contact Venerdi Limited:
Phone: 09 813 5481
Address: 33A Cartwright Road, Kelston
PO Box 20527, Glen Eden