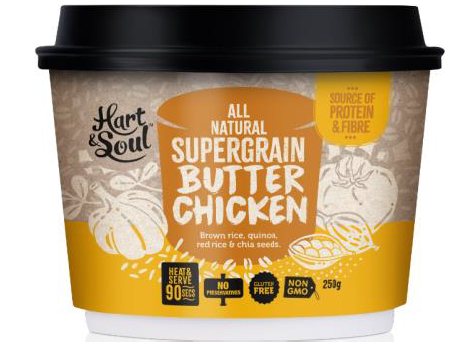 Product identification

Product type

Heat-and-eat meal

Name of product (size)

Hart & Soul brand All Natural Supergrain Butter Chicken (250g)

Date marking

Best-before: 01.01.2022

Package size and description

The product is sold in a 250g paperboard bowl with a black plastic lid.

Distribution

The product is imported from Australia.

The product is sold at Countdown, FreshChoice and SuperValue supermarkets throughout New Zealand.

The product has not been re-exported.

Notes

This recall does not affect any other Hart & Soul brand products.
Consumer advice
Customers are asked to check the date mark on the bottom of the product.
People with a peanut allergy should not consume this product. If you have consumed any of this product and have any concerns about your health, seek medical advice. If you are not allergic to peanut, this recall does not affect you.
Customers with a peanut allergy or intolerance should return the product to their retailer for a full refund.
Who to contact
If you have questions, contact KJ&Co. Brands Pty Ltd.
Phone: 0800 00 58 23
Address: Suite 1, Level 2, 122 - 126 Old Pittwater Rd, Brookvale NSW 2100, Australia