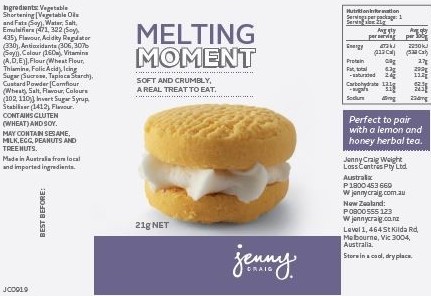 Product identification

Product type

Biscuit

Name of product (size)

Jenny Craig brand Melting Moment (21g)

Date marking

Best Before 09/08/2022

Best Before 13/09/2022

Best Before 28/02/2023

Package size and description

The product is sold in a 21g metallic film pack.

Distribution

The product is imported from Australia.

The product is sold from Jenny Craig Centres and online via the Jenny Craig website throughout New Zealand:

The product has not been re-exported.

Notes

This recall does not affect any other Jenny Craig brand products.
Consumer advice
Customers are asked to check the date mark printed on the packaging.
People with a milk allergy or intolerance should not consume this product. If you have consumed any of this product and have any concerns about your health, seek medical advice. If you are not allergic or intolerant to milk, this recall does not affect you.
Customers with a milk allergy or intolerance should return the product to their retailer for a full refund.
Who to contact
If you have questions, contact Jenny Craig Weight Loss Centres (NZ) Ltd: