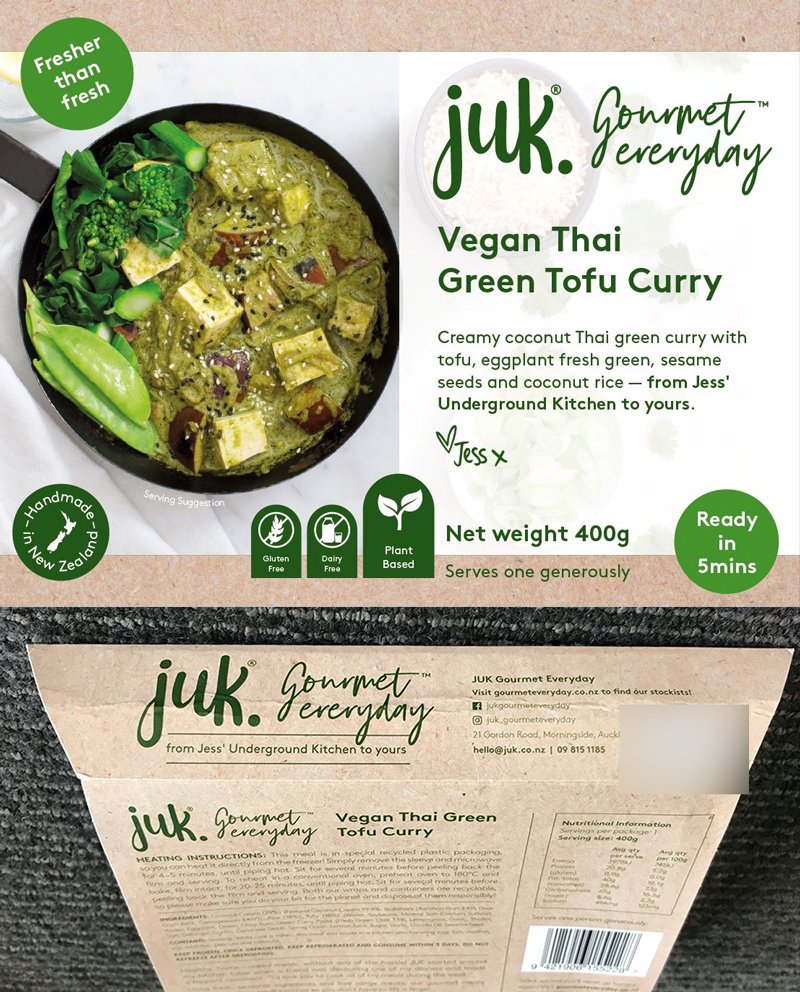 Product identification

Product type

Ready-to-eat meal

Name of product (size)

JUK Gourmet Everyday brand Vegan Thai Green Tofu Curry (400g)

Batch marking

007-3064

007-3039

007-3001

Package size and description

The product is in a 400g plastic package.

Distribution

The product is sold in:

Auckland

Fresh Collective Alberton
New World Albany
New World Birkenhead
New World Botany Downs
New World Broadway
New World Devonport
New World Eastridge
New World Greenmeadows
New World Milford
New World Mt Roskill
New World Orewa
New World Stonefields
New World Victoria park
Pak'n Save Albany
Ronald McDonald House Charities, Auckland

Greater Wellington Region

Four Square Martinborough
New World Hutt City
New World Island Bay
New World Masterton
New World Miramar
New World Paremata
New World Porirua
New World Silverstream
New World Tawa
New World Thorndon
New World Wellington

Bay of Islands

New World Kerikeri
Omaha Beach Superette

Waikato

Tauranga

New World Gate Pa
New World Mount

South Island

Connings Food Market , Appleby

Notes

This recall does not affect any other JUK Gourmet Everyday brand products.
Consumer advice
Customers are asked to check the batch number printed on the side of the outer cardboard package.
People with a crustacea (shrimp) allergy should not consume this product. If you have consumed any of this product and have any concerns about your health, seek medical advice. If you are not allergic to crustacea (shrimp), this recall does not affect you.
Customers with a crustacea (shrimp) allergy should return the product to their retailer for a full refund.
Who to contact
If you have questions, contact Eat Shop Do Ltd:
Phone: 09 815 1185
Address: 21 Gordon Road, Morningside, Auckland.