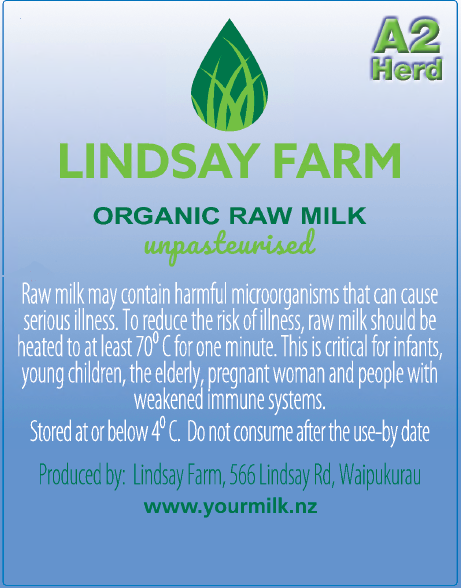 Product identification

Product type

Raw (unpasteurised) drinking milk

Name of product (size)

Lindsay Farm brand Organic Raw Milk (unpasteurised) 2L

Batch marking

Lot numbers: 0203, 0303, 0403, 0503,0603, 0703, 0803,0903, 1003, 1103, 1203,1303, 1403, 1503, 1603 and 1703

Date marking

Use by date between 06.03.2021 and up to and including 21.03.2021

Package size and description

The product is sold in a 2L plastic bottle.

Distribution

The product is sold in the Hawke's Bay region via home deliveries and the following registered depots:

Betta Electrical, 46 - 48 Ruatainwha Street, Waipukurau

Chantal Shop, 45 Hastings Street, Napier

Cornucopia - The Organic Shop, 221 Heretaunga Street East, Hastings

Dawnacres Florist, 208 Havelock Road, Akina, Hastings

Nature's Nurture - The Organic Grocer, 100 High Street, Waipawa

Tangaroa Seafoods, 7 Tangaroa Street, Ahuriri, Napier

Unichem Taradale Pharmacy, 288 Gloucester Street, Taradale, Napier.

Notes

This recall does not affect any other batches of Lindsay Farm brand Organic Raw Milk (unpasteurised).
Consumer advice
Customers are asked to check the lot number and use by date printed on the product.
If you have purchased any of the affected product listed on this notice, do not consume it. Customers should return the product to their retailer for a full refund. Alternatively, consume after heating to 70°C and holding at this temperature for one minute. If you don't have a thermometer, heat the milk until it nearly reaches a boil (or scald the milk) before drinking it.
There have been no reports of associated illness in New Zealand. If you have consumed any of this product and have any concerns about your health, seek medical advice.
How to reduce the risk of illness if you drink raw unpasteurised milk
Campylobacter infection: symptoms and advice
Who to contact
If you have questions, contact Lindsay Farm:
Phone: 06 858 5333
Address: Lindsay Road, Waipukurau, Central Hawke's Bay.