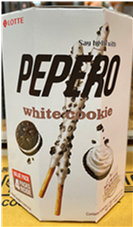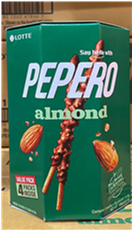 Product identification

Product type

Confectionery

Name of product (size)

Lotte brand Almond Pepero (128g)

Lotte brand White Cookie Pepero (128g)

Date marking

Lotte brand Almond Pepero: 16.02.2024, 30.10.2023

Lotte brand White Cookie Pepero: 9.11.2023, 2.02.2024, and 16.04.2024

Package size and description

The products are sold as a 4 pack in a cardboard box.

Distribution

The products are imported from South Korea.

The products are sold at the following ethnic grocery stores throughout New Zealand:

1 Stop Asian Supermarket, 70 Johnsonville Road, Johnsonville, Wellington
Asian House Groceries, 61A-E Tay Street, Invercargill
Asian Mart Papanui, 29 Main North Road, Papanui, Christchurch
Hi Street Asian Pantry, 49 Tennyson Street, Rolleston, Christchurch
JIA HUA Asian Mart, 527 Main Street, Palmerston North
Jo's Mart & Sushi, 705 Gloucester Street, North Linwood, Christchurch
KOSCO 2006 Blenheim, 227 Blenheim Rd, Middleton, Christchurch
KOSCO 2006 Riccarton, 92A Riccarton Road, Riccarton, Christchurch
KOSCO City, 665 Colombo Street, Christchurch
KOSCO Papanui Ltd, 2/23E Langdons Road, Papanui, Christchurch
KOSCO Shirley, 195F Marshland Road, Shirley, Christchurch
The Chicken Man, 210-212 Swanson Road Henderson, Auckland
V-Mart Limited, 20 Waimairi Road, Upper Riccarton, Christchurch

The products have not been re-exported.

Notes

This recall does not affect any other Lotte brand products.
Point of sale notice for retailers
If you are a retailer of the products in this recall, download a copy of the point of sale notice. You need to display it in your store for one month.
Point of sale – Emart Company Ltd [PDF, 55 KB]
Consumer advice
Customers are asked to check the date mark on the product.
People with a sesame allergy should not consume these products. If you have consumed any of these products and have any concerns about your health, seek medical advice. If you are not allergic to sesame, this recall does not affect you.
Customers with a sesame allergy should return the products to their retailer for a full refund.
Who to contact
If you have questions, contact Emart Company Ltd
Phone: 03 344 6036
Address: 21 Foremans Road, Islington, Christchurch.