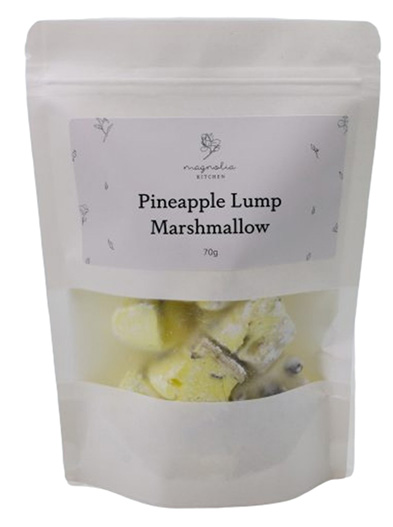 Product identification

Product type

Marshmallow

Name of product (size)

Magnolia Kitchen brand Pineapple Lump Marshmallow (70g)

Date and batch marking

All batches and all dates sold up to and including 17 September 2020.

Package size and description

The product is sold in a 70g plastic bag.

Distribution

The product is sold online through Magnolia Kitchen's website. The product is also sold in Farro Fresh stores, boutique gift stores, and florists throughout New Zealand.

Notes

This recall does not affect any other Magnolia Kitchen brand products.
Consumer advice
People with a milk allergy or intolerance should not consume this product. If you have consumed any of this product and have any concerns about your health, seek medical advice. If you are not allergic or intolerant to milk, this recall does not affect you.
Customers with a milk allergy or intolerance should return the product to their retailer for a full refund.
Who to contact
If you have questions, contact Magnolia Kitchen Ltd:
Phone: 027 254 8483
Address: 8 Silverdale Street, Silverdale Village, Auckland.