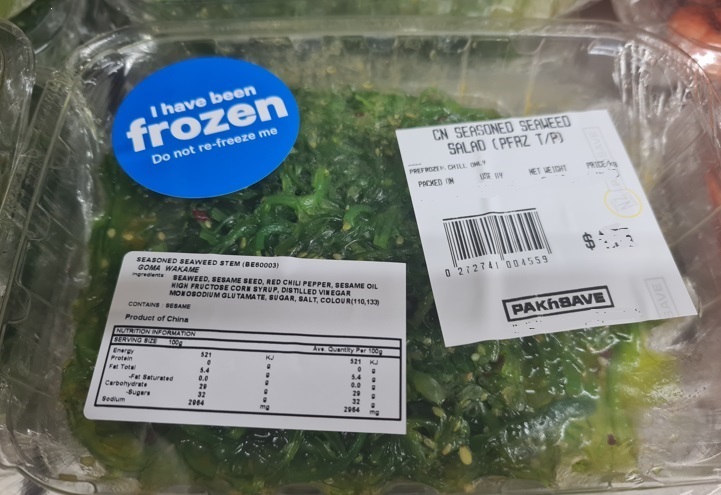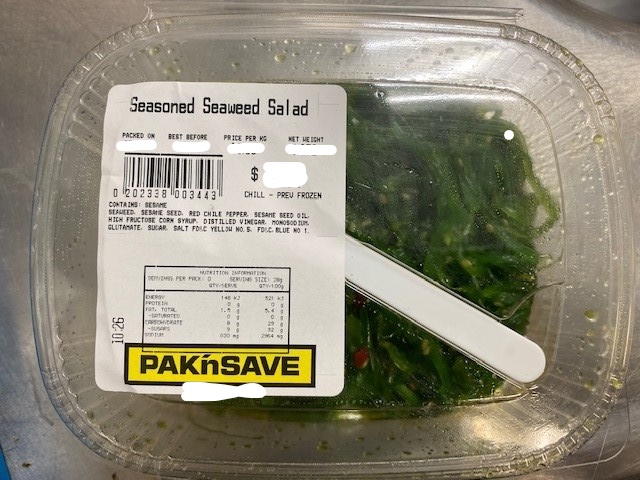 Product identification

Product type

Seaweed salad

Name of product (size)

Seasoned Seaweed Salad/Goma Wakame (various weights)

Batch marking

All batches that do not declare the presence of an allergen (soy)

Date marking

All dates that do not declare the presence of an allergen (soy)

Package size and description

The product is sold in plastic packaging of various weights.

Distribution

The product is imported from China.

The product is sold in the following supermarkets

Auckland
Four Square Oneroa
New World Birkenhead
New World Devonport
New World Howick
New World Papatoetoe
Pak'n Save Albany
Pak'n Save Manukau
Pak'n Save Sylvia Park
Pak'n Save Wairau road

Hawke's Bay
Pak'n Save Napier City
New World Wairoa
Pak'n Save Tamatea

Wellington
New World Newtown
New World Waikanae
Pak'n Save Kapiti

South Island
New World Ashburton
New World Bishopdale
New World Lincoln
New World Mosgiel
New World Queenstown
New World St Martins
New World Windsor
New World Blenheim
Pak'n Save Northlands
Pak'n Save Richmond

The product has not been re-exported.

Notes

This recall does not affect any other Seaweed Salad/Goma Wakame product or any other products sold by Four Square, New World and Pak'n Save supermarkets. Packaging variation may exist.
Consumer advice
Customers are asked to check whether the presence of an allergen (soy) is declared on the packaging and the place of purchase.
People with a soy allergy should not consume this product. If you have consumed any of this product and have any concerns about your health, seek medical advice. If you are not allergic to soy, this recall does not affect you.
Customers with a soy allergy should return the product to their retailer for a full refund.
Who to contact
If you have questions, contact:
Foodstuffs North Island Support Centre
Phone: 09 621 0600
Foodstuffs South Island Support Centre
Phone: 03 353 8700