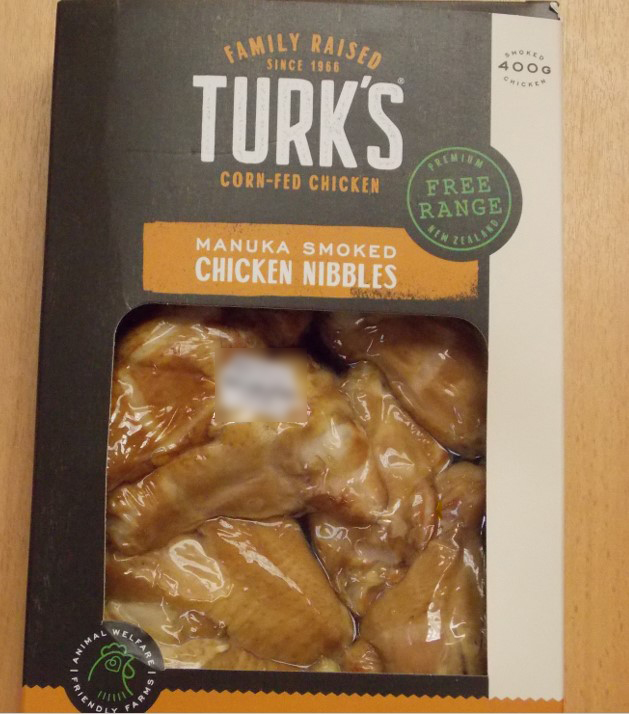 Product identification

Product type

Ready-to-eat chicken

Name of product (size)

Turk's brand Manuka Smoked Chicken Nibbles 400g

Batch marking

Batch 8194 and 8195

Date marking

Best before 4OCT21

Package size and description

The product is sold in sealed plastic with a black bottom and clear top. Clear bag is packaged inside a cardboard box.

Distribution

The affected product is sold at the following North Island supermarkets:

Northland

Countdown Regent

Auckland

Countdown Beachlands

Countdown Henderson

Countdown Highland Park

Countdown Kelston

Countdown Lincoln Road

Countdown Mairangi Bay

Countdown Manukau

Countdown Mt Roskill

Countdown Orewa

Countdown Pakuranga

Countdown Penrose

Countdown Pokeno

Countdown Ponsonby

Countdown Pukekohe

Countdown Pukekohe South

Countdown Takanini

Countdown Te Atatu South

Countdown Three Kings

Countdown Westgate

Pak'nSave Royal Oak

Reduced to Clear Henderson

Reduced to Clear Manukau

Reduced to Clear Mt Wellington

Reduced to Clear Pukekohe

Waikato Region

Countdown Bridge Street

Countdown Hamilton

Countdown Huntly

Countdown Rototuna

Countdown Taupō

Countdown Te Rapa

Reduced to Clear Hamilton

Reduced to Clear Rotorua

Bay of Plenty

Countdown Katikati

Countdown Papamoa

Countdown Whakatane

New World Whakatane

Reduced to Clear Whakatane

Gisborne

Countdown Gisborne

Pak'nSave Gisborne

Hawkes Bay

Countdown Napier

Pak'nSave Hastings

Reduced to Clear Hastings

Taranaki

Countdown Victoria Ave

Manawatu-Wanganui

Countdown Spotswood

Wellington Region

Countdown Grenada North

Countdown Johnsonville Mall

Countdown Paraparaumu

Countdown Petone

Countdown Queensgate

New World Otaki

Notes

This recall does not affect any other Turk's Poultry Farm Ltd brand products.
Consumer advice
Customers are asked to check the batch and date mark on the product.
Affected product should not be consumed. There have been no reports of associated illness, however if you have consumed this product and have any concerns about your health, seek medical advice.
Customers should return the product to their retailer for a full refund.
Who to contact
If you have questions, contact Turk's Poultry Farm Ltd:
Phone: (06) 363 0013 or 0800 48 87 57
Address: Purcell Street West, Foxton.