About our new biocontainment lab
In April 2021 our team moved into Te Whare Rerenga Koiora o Aotearoa, the new National Biocontainment Laboratory. It is located in Wallaceville, Upper Hutt, Wellington.
The Ministry for Primary Industries (MPI) worked with local and global design experts to plan the lab. It uses internationally recognised methods to handle and contain organisms that cause disease in animals and humans.
The project was complex and took almost 10 years to plan and build. The $87 million lab was designed to provide a safe environment for:
diagnostics
exotic disease work
biosecurity related research
supporting the Ministry of Health with human-health diseases.
The lab supports our national surveillance programmes in our animal populations. It may also become an international reference centre for zoonotic coronaviruses. It would be New Zealand's first veterinary lab to be recognised internationally – also a strong endorsement of the team's capability.
Facts and figures
The new lab has a floor area of more than 3,400 square metres.
Over 440 tonnes of structural steel, 680 cubic metres of concrete, and 83 kilometres of electrical and data cabling have been used.
The air handling system uses 4,347 metres of ducting with 3,485 bends.
The whole building runs at negative pressure, with the lowest air pressure room held at -225Pa below atmospheric pressure.
Features of the new lab
Te Whare Rerenga Koiora meets global best practice for handling pathogens. It has some of the most advanced systems and safety features in the world.
We've designed the lab to be flexible and adaptable. Spaces can be used for different diagnostic tests. We can introduce new technologies as they become available.
Design features include:
improved earthquake protection
negative pressure and multiple stage, high efficiency air filtration systems to ensure only clean air leaves the lab
decontamination of all liquid waste and other materials leaving the lab
exit showers for people leaving the containment zone
increased security
a flexible design, which means we can use more of the building during biosecurity emergencies.
Protecting staff and the environment
Our National Biocontainment Laboratory uses complex systems and technology to:
protect the scientists who work inside
make sure organisms aren't released into the environment.
This includes:
air management
fumigation
heat treatment systems to treat rubbish and waste water
building monitoring systems to quickly identify any faults that might occur.
The lab uses a negative pressure system to control airflow. This means that rooms further inside the lab have lower air pressure than outer zones. This pulls air into the low-pressure rooms, preventing contaminated air from escaping.
The building has been designed with duplicated systems and multiple layers of containment. So if there was a failure, the containment systems would keep working properly.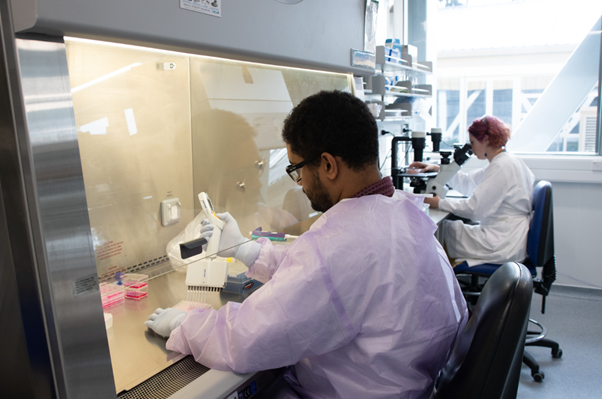 Earthquake protection
The new lab is designed to survive a one in 2,500-year earthquake. It meets the same seismic rules as hospitals, airport control towers, and water treatment plants. The building sits on 10 base isolators and 20 slider bearings. These will reduce damage and keep samples safe during an earthquake.
How labs are rated
Containment facilities that hold viruses and bacteria are approved according to an international scale called a physical containment (PC) level. PC1 is the lowest containment level and is used for the safest bacteria and viruses. PC4 is the highest level.
New Zealand has many PC1 and PC2 labs and a handful of PC3 labs. Te Whare Rerenga Koiora o Aotearoa is the only enhanced PC3 lab. It's classified as enhanced because it contains more safety measures than a standard PC3. It's the highest level of biocontainment approved in New Zealand.
The closest PC4 lab to New Zealand is in Australia.
Who to contact
If you have questions about the National Biocontainment Laboratory, email info@mpi.govt.nz