New Zealand Biosecurity Awards
The New Zealand Biosecurity Awards recognise and celebrate outstanding contributions to protecting our country. Find out about the 2021 award entries and previous winners.
2021 AWARDS DIARY
2 July: Entries open
31 July: Entries close
August/September: Judging
1 October: Finalists announced
16 February 2022: Awards ceremony
Recognising biosecurity champions
The New Zealand Biosecurity Awards are our way of celebrating people and organisations across the country who are contributing to New Zealand's biosecurity – in our communities, businesses, schools, iwi and Māori organisations, universities, councils, government agencies.
We want to recognise the incredible individuals and teams who are working hard to help ensure our country and its unique environment are safe from pests and diseases through their contributions – through science, research, and innovations – to biosecurity.
It takes all of us to protect what we've got but there are a few champions worth celebrating.
More information about the New Zealand Biosecurity Awards – Ko Tātou This Is Us
Who can be nominated?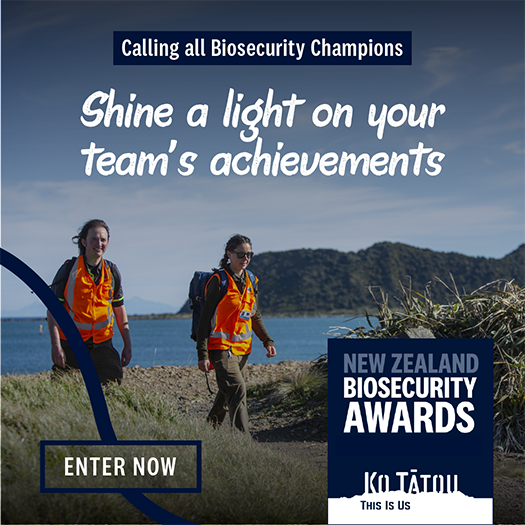 The awards are open to people and organisations across New Zealand who contribute to biosecurity. Individuals, groups, and up-and-coming leaders.
There are 9 award categories. All category winners are eligible for the New Zealand Biosecurity Supreme Award.
If you are thinking about entering in 2022, you should choose the category best suited to the biosecurity work, the individual, or the group that deserves recognition. You can enter more than one category, but you must submit a separate application for each category.
Community Award
Kura (School) Award
Māori Award
GIA Industry Award
Eagle Technology Local and Central Government Award
Bioprotection Aotearoa Science Award
Mondiale VGL Innovation Award
You can also nominate an up-and-coming leader you'd like to see recognised for their contribution to biosecurity in New Zealand for the AsureQuality Emerging Leader Award.
To recognise a lifetime commitment to biosecurity, nominate a group or individual for the Minister's Biosecurity Award.
Find out more about the award categories and criteria – Ko Tātou This Is Us
Previous biosecurity award winners