Primary Industries Good Employer Awards 2022
Recognising and celebrating our exceptional primary industries employers. Find out about the 2022 winners and finalists.
Award categories, 2022 winners, and the award's night
Supreme Award
Toggle expandable
Winner: Raglan Food Co.
About this award
This award recognises the supreme winner of the evening, chosen from the winners of all the categories.
This employer:
was selected by the judges from the winners of the other categories
stands out above all the other winners in their commitment to being an exemplary employer.
Employee Development Award
Toggle expandable
Winner: Raglan Food Co.
In less than 8 years, Raglan Food Co. has evolved from its humble roots as a home kitchen experiment into a thriving business producing thousands of jars of their signature coconut-based yoghurt every month. Their brand is well-recognised across Aotearoa and they now export to China, Singapore, and Hong Kong. All of these efforts are driven by its team of nearly 30 people from 11 different countries. They're also proudly Carbon Zero, certified by both B Corporation and Toitu Envirocare, and they regularly engage with projects that benefit the environment, the ocean and society. Raglan Food Co. champions employee development by:
implementing a career growth framework with 2 clear progression pathways within the business, where staff can pursue growth either as a specialist or a manager
providing general company-wide benefits such as monthly team events, a volunteering programme, the flexibility to work a 4-day week and from home, a paid day off each year on their "work anniversary", plus a health and wellbeing fund aimed at improving and accelerating quality of life for all team members
providing a transparent and fair renumeration system including a fair wage policy, a profit share program to enable their employees to share in the success of the company's growth, and a wage cap policy to encourage greater equality between entry level and senior staff
offering training opportunities including finance workshops to help employees manage their money, get a better grip on their KiwiSaver, and tips towards buying a first home. The company also provides a 4-month management workshops series, or the option of subscribing to courses to improve specific skills such as Excel, and an annual subscription to "Masterclass" online training modules
providing performance reviews which employ a 360-degree feedback system, plus a growth survey in which staff critique their role, company benefits, goals, training, feedback for management, and the company as a whole.
Finalist: Constellation Brands NZ
As a large-scale viticulture business, Constellation Brands has recognised the need to develop and grow their workforce alongside the growth of their business. In 2020, they partnered with organisation culture change experts, Human Synergistics, to co-design the ideal constructive workplace culture with the input of their staff. This focuses heavily on the "Four Bs": Be yourself, Be Encouraging, Be United, and Be Your Best.
This culture journey has also seen Constellation Brands NZ embed a suite of training and development opportunities including Primary ITO training, the globally-renowned Personal Efficient Programme, Harvard University leadership courses, and mental health resilience training, which employees have been trained to deliver in-house. They have also rolled out a peer-driven rewards and recognition programme, and they run regular employee surveys to monitor staff development and feedback.
Finalist: Legendairies Ltd
This Invercargill-based dairy farm provides opportunities for employees to grow, both on and off the farm. As a small business, they've created a culture of "putting the employee first". Owners Steve and Tracy Henderson seek to employ the team based on values and not just experience. They spend time training and developing people with the right values, including entry-level staff. They support their staff in entering the Dairy Industry Awards – and they've previously had a team member win Trainee of the Year.
"Education" and "Listening" are core values at Legendairies. Training up the team and listening to their needs and feedback has proven to be a successful model for growth within the business.
Finalist: Kairoa Dairies Limited
Just because you apply for a position at Kairoa Dairies doesn't just mean you're stuck in that job forever. With a 50/50 men and women team mix, there is a 0% pay gap between genders with the same jobs, and a 50/50 split of men and women in management roles.
This small Ashburton business focuses on high-value training and education so their team can build on their skills and provide equal opportunities to move up the organisation. This year, the farms adjusted wages by 5% plus performance bonus adjustments. Salaries and goals are reviewed every 4 months. There are also many opportunities to advance through the company and develop professional skills.
About this award
This award recognises employers who have put in place an effective employee development programme.
Entrants to this category had to provide examples of how they meet at least one of the following criteria:
Provide a fair and unbiased recruitment process and inform new employees about the organisation and opportunities available to them.
Support the development of all employees through relevant training, coaching and mentoring.
Provide equal opportunities for all employees to move up and through the organisation in a positive way and provides performance management practices that are transparent and fair.
Have a transparent remuneration system which is regularly reviewed, ensures equitable job opportunities and conditions, and recognises employee contributions.
Provide opportunities for staff to participate in organisational decisions.
Safe and Healthy Work Environment Award
Toggle expandable
Winner: Align Farms Limited
Align Farms operates 5 dairy farms, one dairy support farm, and a market garden out of Canterbury. The 30-strong team prides themselves on "self-disruption" – continually improving their employment practices and setting a benchmark for the rest of the industry.
Align Farms champions a safe and healthy workplace by:
providing 2 health checks each year alongside an app that allows them to share how they're feeling. It's then collated into entire team averages, providing critical information for innovation or further support
offering "You Choose Afternoons" – an afternoon on rotation where each team member is given 4 hours to volunteer for various organisations or clubs. A total of 500 hours are spent volunteering every year.
providing its teams with 60% of their food from their market garden and selling the surplus to help contribute to the costs
providing and funding full health insurance for all employees and their families
offering the Align Farm Scholarship, a yearly scholarship for university students. The families of Align Farms staff have first right to the scholarship, and it then is offered to the public. Scholars also receive a 12-month position as board observers on the Align Farms board.
providing the In-House Safety Platform, an online tool built by the Align Farms team to lift engagement and, in turn, lift performance and positive outcomes. High volumes of safety-related data collection allows the team to make informed critical decisions. The Minimise – Eliminate or Innovate (ME&I) safety initiative is part of the programme.
Finalist: BeeNZ Ltd
BeeNZ Ltd values its people. It has a rigorous staff wellbeing programme that offers ways for their team to live and work healthier. The programme includes a community garden, a retail discount, and a constant supply of honey for every employee. The company also makes an effort to celebrate and recognise things such as International Women's Day, mental health, and anti-bullying. Third-party workshops are used to drive wellbeing and mentoring sessions – a recent workshop on how to bring your best self to work being a particular highlight for the team.
Families are important to BeeNZ, and there are facilities in place for mothers to breastfeed and store milk at work. Employees are encouraged to attend their children's activities if they fall within work hours. Last December, the organisation gained a Toitu gold enviromark certification – qualifying them as a company that is committed to protecting the health of the environment and the health and safety of their employees at work.
Finalist: CAJ Apples/Roseburn Orchard
Roxburgh is home to Roseburn Orchard, which has seen some significant changes in its health and safety protocol over the last few years. Roseburn Orchard management created a simplified incident report that was more accessible and faster to fill in for the team. Alongside this, employees have small but essential parts of their workflow that enable them to be safer and healthier. For example, they're provided with individual ATV helmets, training on tractor driving protocol on the state highway, training to pilot vehicles for moving large machinery, and strict protocols for chemical handling and storage.
RSE workers from Vanuatu had drinking water issues at their off-site accommodation, which the company fixed and covered costs for. During the aftermath of the Tongan tsunami the business supported its Tongan RSE workers to make sure they and their families had means of communication, including during work hours. Regular news updates were given to ensure all the RSE workers knew what was going on back home.
Finalist: Yealands Estate Winery
In the midst of the pandemic, Yealands created a dedicated COVID-19 response team, focused on the wellbeing and safety of all staff. They reached out to everyone at Yealands to ensure no one felt alone. Delivering office furniture, equipment, and frozen meals to employees during lockdown were key drivers in boosting morale. When the Auckland team were locked down, the wider national team sent in care packages for them – which included a day off on a Friday. It is this kind of company culture of wellbeing that has made Yealands so successful.
In other areas of work, Yealands has led the charge in health and safety. Notable achievements include becoming the first company in New Zealand to fit out their tractor fleet with EU-Regulation air filtration and revising the harassment and bullying policy and installing team representatives to ensure everyone feels respected and involved in the workplace.
About this award
This award recognises employers who have put in place an effective health and safety programme.
Entrants to this category had to provide examples of how they meet at least one of the following criteria:
Demonstrate commitment to an environment that supports and encourages employee participation in health and safety and take a proactive approach to employee health and wellbeing.
Provide a workplace where employees are safe from harassment and bullying.
Empower employees by respecting what makes them different.
Provide a workplace where employees can balance work with the rest of their lives.
Inclusive and Diverse Workplace Award
Toggle expandable
Winner: Sealord Group Limited
Sealord is a market leader in Aotearoa seafood. Its culture is centred around its value of "looking after our Sealord whānau". Many employees have worked at Sealord for more than 20 to 30 years.
Sealord champions an inclusive and diverse workplace by:
employing a culturally diverse workforce from vessel and production staff to shore-based teams, with more than 40% of their team coming from outside of Aotearoa
matching staff donations to a chosen refugee charity in South East Asia ($7,000 total) during the 2021 coup in Myanmar, to support their Burmese staff
implementing the Speak Up Policy to provide a channel to share information if there are problems with health, safety, environmental sustainability, or ethical behaviour. Employees are encouraged to speak with their manager first or call an independent, confidential hotline.
increasing company communication by holding "Quarterly Town Halls" company updates in-person and online, CEO vlogs, CEO breakfast meetings across all teams throughout the year, and the new intranet Kaharoa – which allows 2-way conversations with staff
introducing a "buddy" system for people where English is second language, where a worker of the same ethnicity who is fluent in English will help translate, particularly during training sessions and health and safety briefings
implementing a flexible working from home policy and a school hour shift so parents can spend time with their children
offering a "Sealord Scholarship" for the last 10 years which offers children or grandchildren of Sealord permanent employees a grant to study at a tertiary institution for up to 4 years
Most recently, Maggie Te Rauroha Goomes and Neih Neih Hlawnceu each received $5,000 a year for up to 4 years of tertiary studies. A former refugee from Myanmar, Neih Neih is the first from her family ever to attend university. She is studying a double conjoint degree at Otago University – a Bachelor of Law and a Bachelor of Arts. Maggie is studying a Bachelor of Communication, majoring in Tauwhitinga Māori, at the University of Canterbury. She is of Moriori, Te Āti Awa, Ngāti Mutunga, Ngāti Toa, and Kāi Tahu descent.
Finalist: Legendairies Ltd
Legendairies understands that employees want to work for employers who provide a meaningful purpose, opportunities for growth and development (both personal and professional), balanced work, fair remuneration, and a fun and supportive work environment. They have invested in articulating their purpose, vision, and values and integrating these into how they work. They leverage this to recruit a team that aligns with their purpose, vision, and values. They provide a work environment that then supports their team to do meaningful work, achieve their goals, understand how they contribute to the big picture for the business, and feel a sense of belonging/importance.
Legendairies employs based on values, not experience. This means they invest time training and developing people with the right values, including new entrants to the sector, giving them an opportunity to learn new skills and build a career in the sector.
Examples of ways Legendairies supports inclusivity and diversity include supporting employees who want to progress their career to enter the Dairy Industry Awards (they've previously had an employee win trainee of the year in Southland), supporting single parents by providing days/hours of work to suit, and supporting employees to achieve their life goals (an example of which was providing budgeting and financial advice to an employee to achieve the personal goal of buying a house).
Owners Steve and Tracy Henderson lead by example by providing support for a diverse team (including women, students, and single parents). This support includes tailored days and hours of work, training and development which suits individual needs, and growth opportunities which recognise individual goals and aspirations (personal and career).
Finalist: Recreational Services
Recreational Services has targeted Equality Diversity Inclusion (EDI) goals. The aim is to create awareness of the opportunities available to youth, Māori and Pasifika people, and communities from socio-economically disadvantaged backgrounds in the parks industry as a long-term career prospect with career growth opportunities in place.
Recreational Services collaborates with Blue Light, a registered charity and community policing youth program that has run programmes and activities for young people throughout New Zealand. Notable inclusion practices include:
working with multiple councils in the North Island and the Ministry for Social Development to employ more than 100 people who were previously displaced due to the pandemic
a cadetship programme to encourage youth to work in parks and horticulture, focusing on lower decile schools
a focus on hiring a diverse and inclusive workforce, leading by example with more than 56 ethnicities represented in the business, and initiatives to further understanding of Te Tiriti o Waitangi and how it can be utilised working with and for Māori.
Finalist: Thornhill Horticultural Contracting Ltd
Thornhill is a supplier of labour to the horticulture and viticulture sectors in Hawke's Bay and Marlborough. They seek to hire locally first with obtaining its labour force. It also has Recognised Seasonal Employer accreditation to recruit workers from the Pacific Islands and Thailand. Thornhill has had to adapt to labour shortages over time, focusing on a pool of workers that have traditionally not been given work opportunities, for example people with criminal convictions, gang relationships, drug or family issues.
Thornhill has a "no-judgement" policy within its recruitment. They are also breaking down barriers to employment by offering free transport, training, pastoral care, and a variety of work options suitable to the applicant.
Current programmes include employing day release prisoners (with full board and pastoral care), working with local gangs to support members to gain full-time employment, and working with the Disability Resource Centre Trust in Hawkes Bay to facilitate an inclusive workforce.
About this award
This inaugural 2022 award recognises employers who have put in place initiatives to support an inclusive and diverse culture.
Entrants to this category had to provide examples of how they meet at least one of the following criteria:
Empower employees by respecting what makes them different.
Empower employees to "have a voice", including encouraging employees to share their opinions and experiences with others in the workplace.
Provide support, tools, and resources to increase awareness and understanding of diversity and inclusivity.
Provide a workplace where employees can balance work with the rest of their lives.
Small Business Recognition Award
Toggle expandable
Winner: Stefan and Annalize Du Plessis – Mosa Farming Ltd
Stefan and Annalize du Plessis came from South Africa in 2001 with $2,000, and they've progressed through the dairy industry, now share-milking in Dipton, Southland. They run 2 farms and have been farming these since 2008. They employ 6 full-time staff and the partners of the 2 managers are also employed.
They have 3 daughters who regularly help on-farm too. Stefan and Annalize won the National Sharemilker of the Year title in 2010, highlighting their credentials as industry role models of exceptional integrity. People are their biggest asset.
Mosa Farming Ltd. champions a small business by:
hosting regular meetings with vets, contractors, and farm managers, catered by Annalize
providing high support for paid training and professional development (including first aid, Primary Industry Training Organisation courses, and farm safety)
ensuring good resourcing on farm to prevent burnout. Each farm can run with 2 staff, but Mosa Farming employs 3 full-time staff along with relief staff. First priority is given to partners of current employees for relief work. Children are welcomed on farm with systems in place to manage their safety.
training staff in all aspects of the business – not just creating milkers, but also creating farmers. Managers are allowed to sit in on all external meetings to learn, develop and engage.
giving staff the day off on their birthday along with a gift, followed by a celebratory meal. Team building events are held regularly. During calving, Annalize supplies lunch once a week for the entire farm.
Finalist: BeeNZ Ltd
BeeNZ uses the acronym "BEE" to explain its values as a small business:
B – Be Prepared. We act in anticipation rather than responding after it has happened.
E – Ever Changing. We take initiative to bring positive results and adapt to change.
E – Extra Care. We are committed to working together, have respect and value each other.
BeeNZ Ltd values its team with whole team strategy discussions, weekly "toolbox" meetings, team mentorship workshops, and an overall team culture of diversity, inclusion, and work-life balance.
Finalist: Legendairies Ltd
The Legendairies team have taken the time to articulate their purpose, vision, and values and align their small business to a first-class model. Their values set clear expectations for their team about culture. They provide remuneration that rewards hours worked (the team are paid by the hour) and enable the team to live off-farm if they prefer that. They provide meaningful opportunities for the team to grow, develop, and achieve their goals (both professionally and personally) including both on and off-farm training. This includes providing task variety. Legendairies provide access to financial advice to help employees achieve personal goals.
They have established robust standard work processes which incorporate components of "Lean Management". They're also active in supporting the primary sector, for example volunteering for the Dairy Industry Awards committee and Southern Field Days.
Legendairies' Facebook page provides great examples of good primary sector practices (across both employment and other aspects of farm management) and creates a strong, positive example of excellent farming. It's not just the on-farm training appreciated by the team, such as motorbike, first-aid, and chemical training, it's other aspects such as Biz Start, an industry-led course to upskill future leaders.
With equal opportunities and a transparent remuneration system, this small business puts its staff first and helps them succeed in the way they want to.
Finalist: Kairoa Dairies Ltd
With 4 team members, Kairoa Dairies takes great effort in upskilling its team. With detailed development plans at the start of employment with regular reviews, goals are set and staff are encouraged to grow within the business.
Kairoa Dairies believe it's through its people that they reach the business's goals and targets. Kairoa Dairies is passionate about training staff and providing the support needed. All staff are trained in health and safety and have the opportunity to take on an apprenticeship or attend many other short courses such as:
motorbike training
first aid training through St John
irrigation training
animal health training
chemical handing
Biz Start, an industry-led course to upskill future leaders
the "Lean Programme"
looking at ways to reduce waste in the business.
About this award
This inaugural 2022 award recognises the great work that small businesses in particular do to drive good employment practices.
Entrants to this category had to have in place an effective programme in one or more of the following Good Employer Awards categories:
Employee Development
Safe and Healthy Work Environment
Inclusive and Diverse Workplace
They also need to identify as a small business.
Māori Agribusiness Award
Toggle expandable
Winner: Wini (Ngāti Awa, Ngaitai ki Tōrere) and Simon Geddes – Tāne Mahuta NZ Ltd
In the early 1960s, a wero (challenge) was laid down by Koro Eruera Manuera, Ngāti Awa Paramount Chief. He signed an agreement to allow native forests to be cleared and planted in Pinus Radiata. In return, there was to be mahi (work) for future mokopuna (generations) to come. This 60-year-old promise has formed the basis of this youth-focused forestry organisation. With more than 45 years of expertise in the forestry sector, Tāne Mahuta's kaupapa (purpose) is to "train, qualify, and employ rangatahi (young people) to work on their own whenua (land)."
Kaumatua (elders) in Te Teko, in the Bay of Plenty gave the company the task of "doing something for our young people". In 2014, a youth-focused programme was launched for rangatahi who were not only unemployed but also facing major social issues including drug addiction, criminal activity, violence, and relationship breakdown with whānau, hapū, and marae. This programme has successfully reduced psychosocial issues that affected the ability of rangatahi to be employed and engage in healthy, positive whānau, and community activities and relationships.
To date, Tāne Mahuta have trained, qualified, and employed over 450 rangatahi.
Tāne Mahuta NZ Ltd champions Māori agribusinesses by:
offering the LWYE™ (Learn While You Earn) training and employment programme, which allows rangatahi to learn skills, graduate with qualifications, and earn a living at the same time
integrating and practicing the Māori values of whānaungatanga (relationships), whakapapa (genealogy), and manaakitanga (care and responsibility) to ensure good employment practices
implementing the Kaihautū Pastoral Care (KPC) programme to remove barriers to produce a well-trained, capable, competent, and drug-free workforce. This allows and supports rangatahi to attend court hearings, and where needed supporters visit with whānau and attend marae hui to update hapū and iwi on the progress of their rangatahi. In addition, providing access to a drug test rehab unit and strong pastoral care ensures staff retention.
Finalist: Te Arawa Fisheries Group
As a leading Māori business in Rotorua, Te Arawa Fisheries is leading the charge on an innovative aquaculture/agriculture study. They aim to find solutions to sustainable fishing through technologies such as fish farming, robotics, and genetics. Te Arawa is the bridge between iwi and the science and research community in the Bay of Plenty. The company is expanding its team to provide more science roles in a tikanga Māori environment. Te Arawa endeavours to ensure tikanga Māori is present and active in all conduct between iwi and scientists.
Te Arawa Fisheries is an accumulation of 10 iwi who are all associated with the Te Arawa Waka which brought our people to New Zealand:
Ngāti Pikiao
Ngāti Whakaue
Ngāti Tūhourangi
Ngāti Rangiwewehi
Ngāti Rangitihi
Ngāti Tāhu/Ngati Whāoa
Ngāti Waitaha
Ngati Mākino
Ngāti Rangiteaorere
Ngāti Tarawhai.
More than 30 years ago these iwi banded together to create Te Kotahitanga o Te Arawa Waka Fisheries Trust to give their tamakiri a sustainable future in fisheries in all areas, to build their tamariki, and create leaders. Te Arawa Fisheries has been able to give back to their people with jobs, koha for tangihanga, and with scholarships and grants. They give back to their kuia and koroua, tamariki and marae every year, and hope to continue to nurture their iwi for many generations to come.
About this award
This award recognises employers that identify as a Māori agribusiness who drive good employment practices.
Entrants to this category had to have in place an effective programme in one or more of the following Good Employer Awards categories:
Employee Development
Safe and Healthy Work Environment
Inclusive and Diverse Workplace
They also showed how they:
demonstrate success in providing pathways for Māori employees to advance in the organisation
incorporate tikanga Māori to increase individual, community, hapu, and iwi outcomes.
Pictures from the 2022 awards night
Toggle expandable
Supreme and Employee Development Award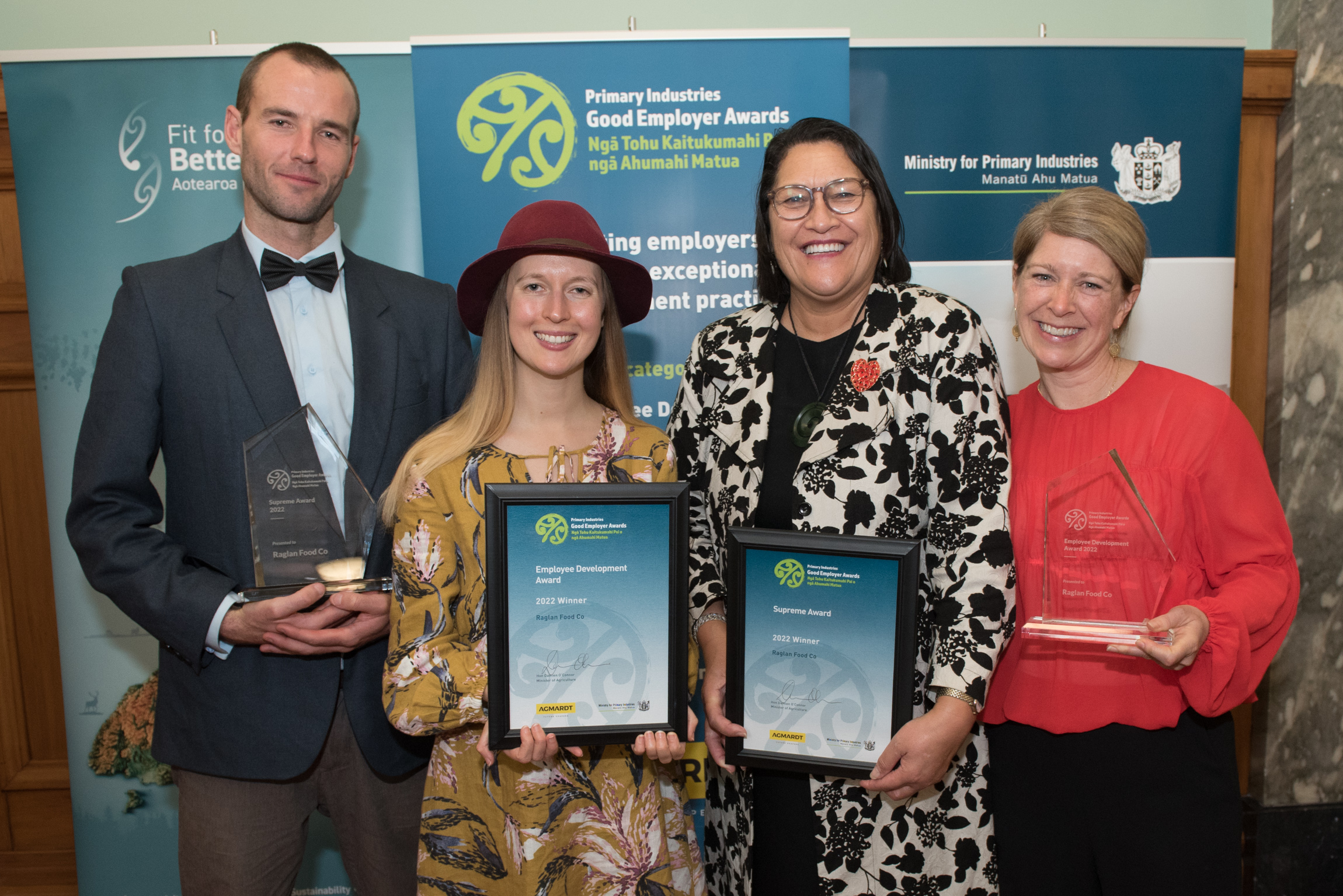 Employee Development Award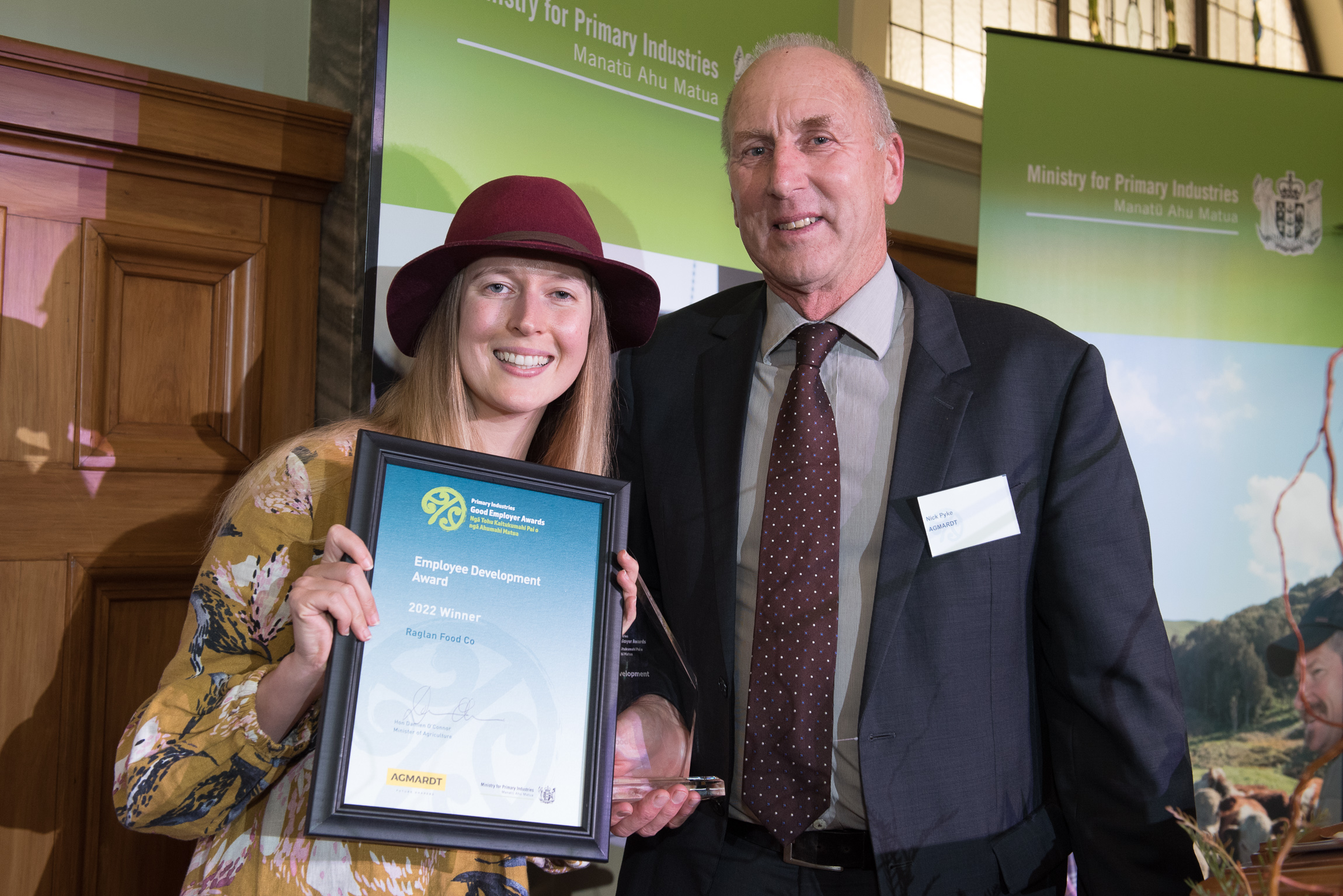 Inclusive and Diverse Workplace Award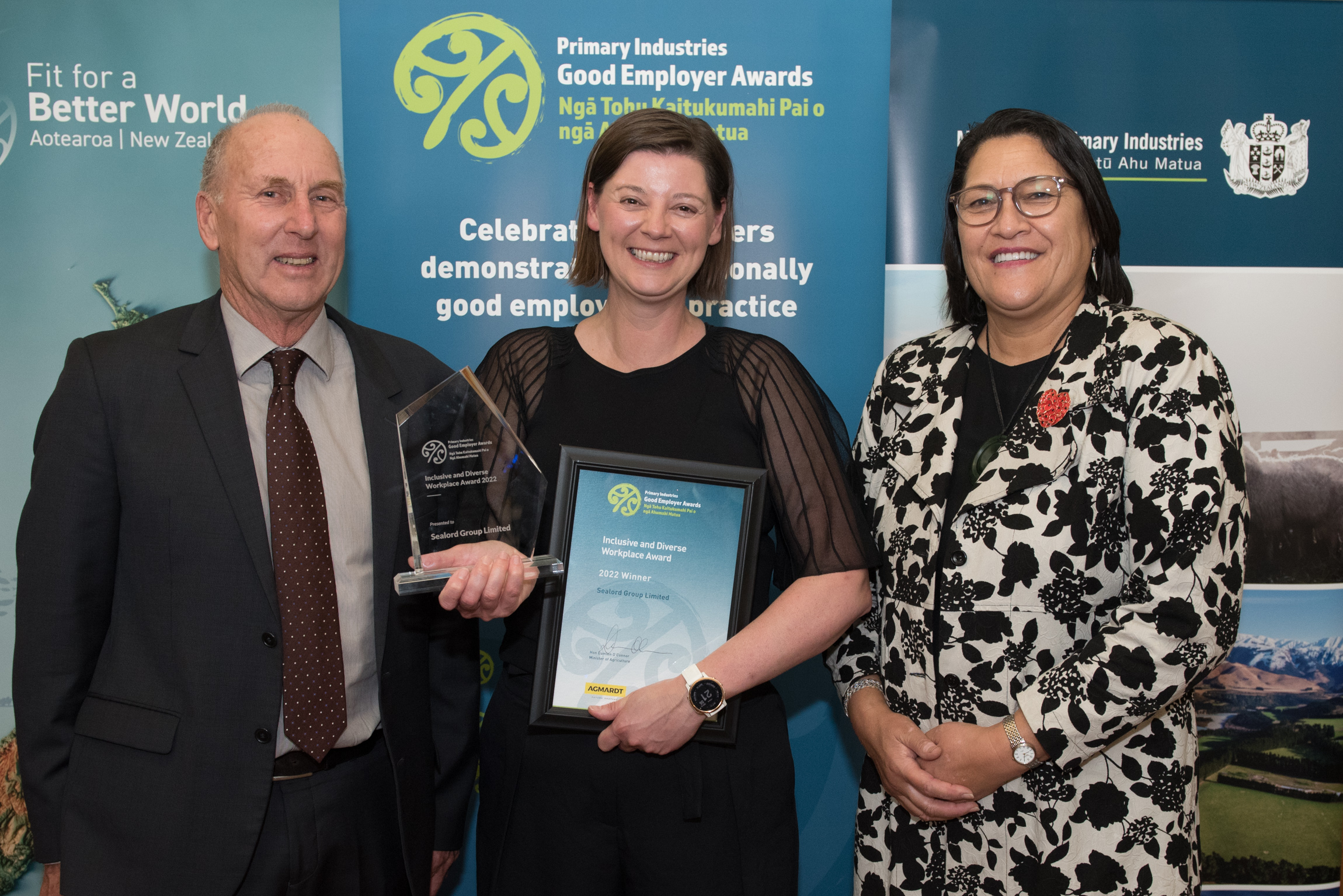 Small Business Recognition Award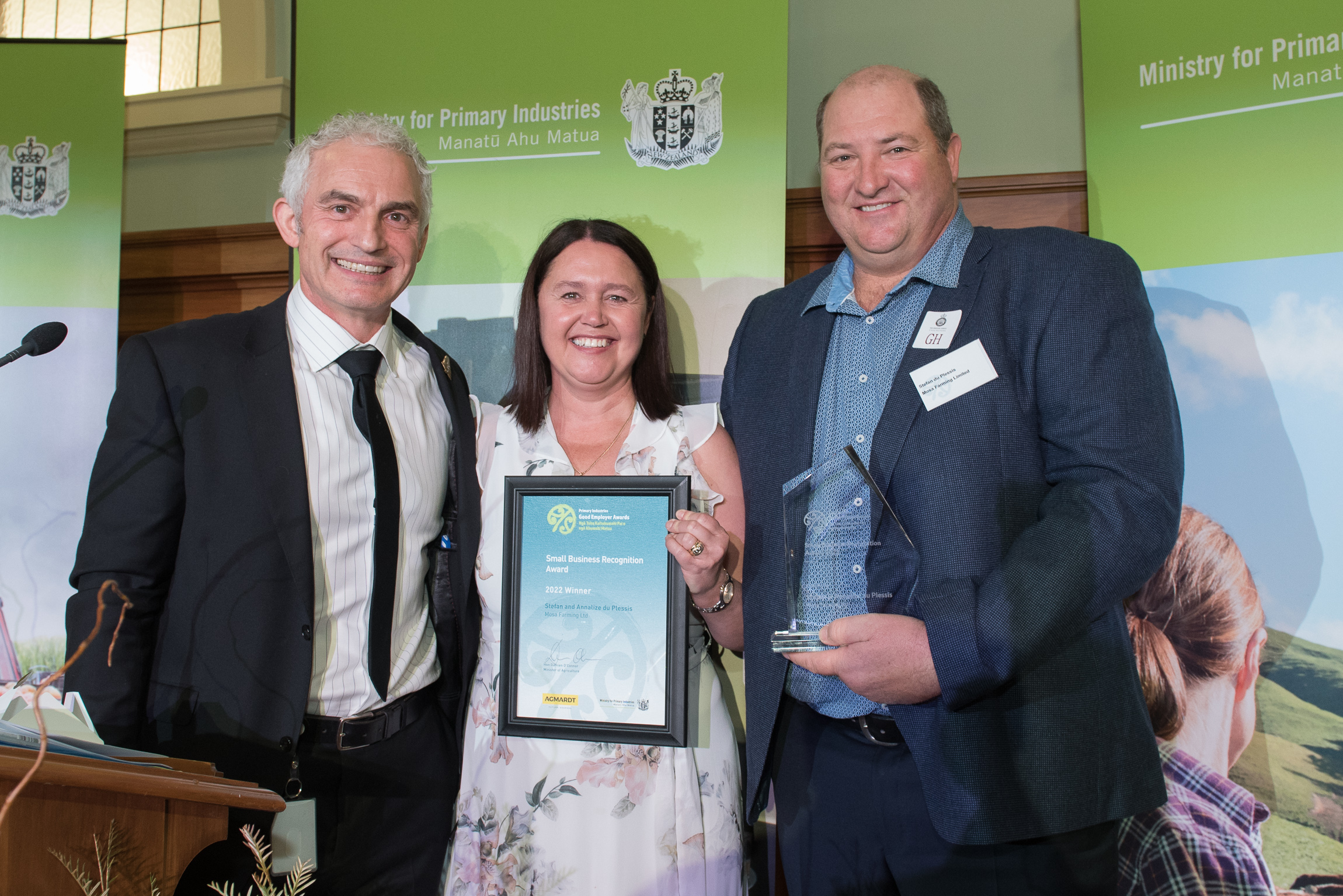 Māori Agribusiness Award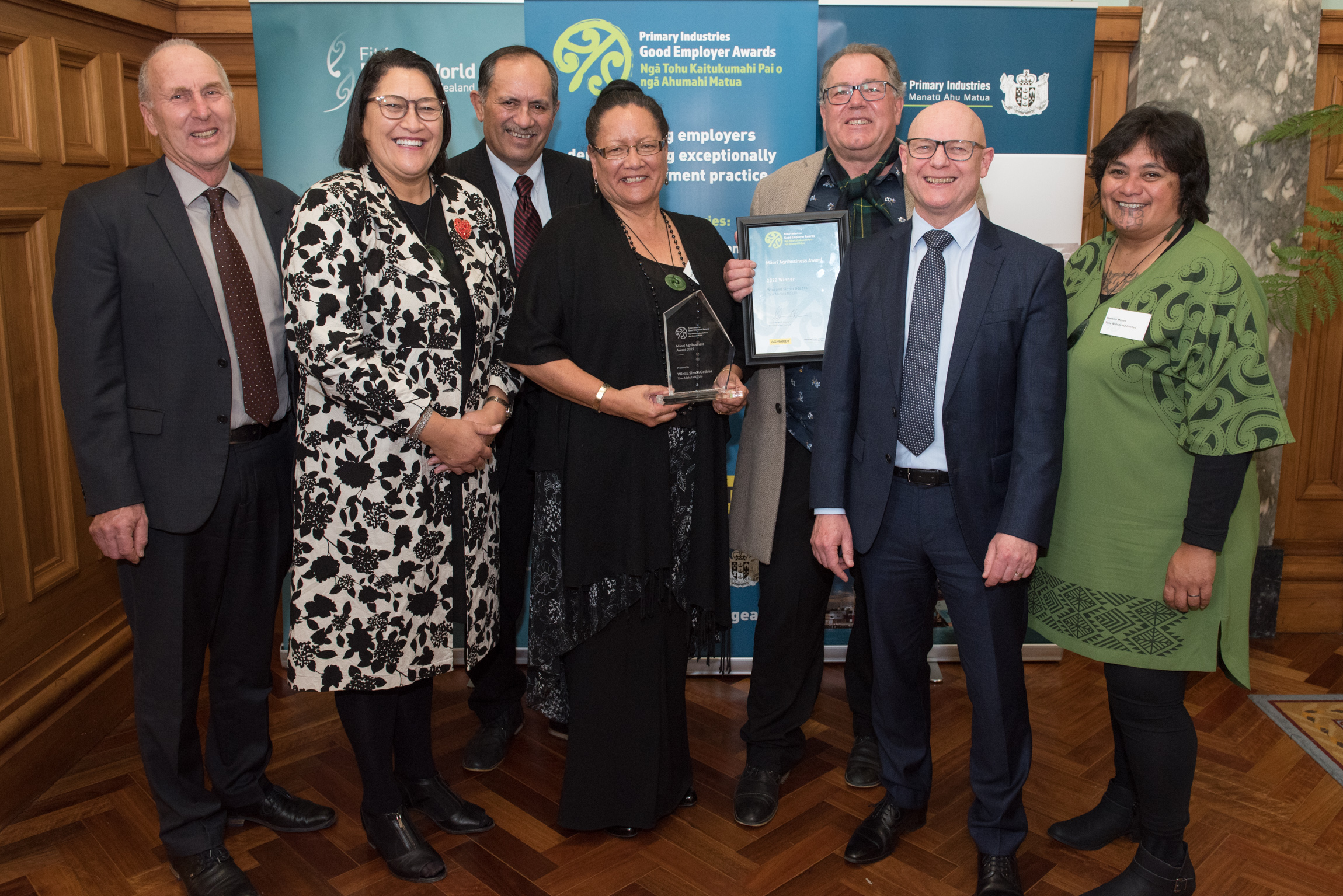 Find out more
2022 Primary Industries Good Employer Awards media release
Primary Industries Good Employer Awards 2022 guidance document [PDF, 5.5 MB]
2021 Awards
Check out the 2021 winners and finalists
Watch the highlights from the 2021 ceremony (5.38) – Youtube
Who to contact
If you have questions about the Primary Industries Good Employer Awards, email goodemployerawards@mpi.govt.nz