UPDATES
14 April 2023 – All fishing is totally prohibited in the Pikomamaku (Womens Island) Mātaitai Reserve
No person may take or possess any fish, aquatic life or seaweed from within the Pikomamaku Mātaitai Reserve.
Womens Island/ Pikomamaku is in the North Tītī Isles group, Foveaux Strait.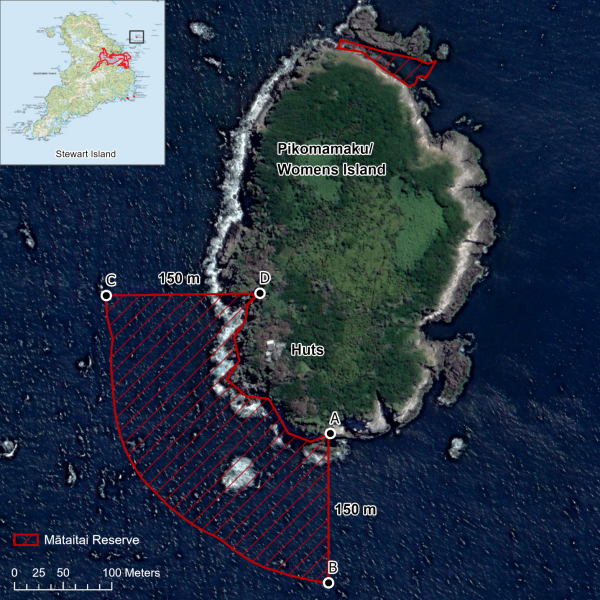 Pikomamaku Mātaitai Reserve is in two parts:
Area 1: North end of Womens Island extending 110m along the MHWM and extending 30m seaward at its widest point.
Area 2: The South-west quarter of Womens Island extending 150m offshore from the MHWM bounded between the following boundary coordinate points:
A: 46°49.52'S and 168°14.69'E B: 46°49.60'S and 168°14.69'E
C: 46°49.44'S and 168°14.52'E D: 46°49.44'S and 168°14.64'E
5 May 2022 – Changes to finfish bag limits
On 5 May 2022, daily bag limit rules for recreationally caught finfish changed.
All finfish, including those with individual species limits, are now part of the combined daily bag limit (except specified baitfish species and freshwater eels).
Specified baitfish species are part of a new daily limit of 50 combined per person, per day (additional to the combined daily bag limit for finfish).
New infringement offences and penalties have been set for southern bluefin tuna in line with what exists for other finfish species.