Challenger area fishing rules
Recreational fishing rules for the Challenger area, including closures, restrictions, and other important notices.
What you need to know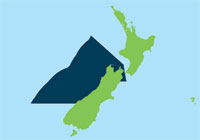 This area extends along the West Coast of the South Island north of Awarua Point, and around to Clarence Point on the east coast.
This page has the rules for:
size limits
catch/bag limits (how many fish or shellfish you can take each day)
closed areas (where you cannot fish)
special restrictions.
The page has the rules for all types of recreational fishing. This includes potting, netting, and all other fishing methods.
Remember, if you're a recreational fisher, selling any fish or shellfish you catch is illegal.
Updates
New netting restrictions
From 1 October 2020, there are new fishing rules to help protect Hector's and Māui dolphins. Set nets are banned in several areas of the country, and the trawl prohibition within the central Māui dolphin habitat zone has been extended. Drift netting is banned everywhere in New Zealand.
New blue cod rules
Since 1 July 2020, the new size limit for blue cod is 33cm. A "traffic light system" is used to indicate the daily bag limit for different areas.
How to check the rules
You can find a summary of the size and catch limits, closed areas, and special restrictions further down this page.
Size limits, catch/bag limits, closed areas, and special restrictions
You can also use the free NZ Fishing Rules app, check rules in our brochures, or text us. You'll also see signs about rules at many fishing spots.
Download the free NZ Fishing Rules app

Or free text "app" to 9889 to be sent the links to your phone. After you install it, the app will work without an internet connection.
Get a brochure
Brochure: Recreational fishing rules – Challenger (West Area) [PDF, 1.4 MB]
Brochure: Recreational fishing rules – Challenger (East and Kahurangi) [PDF, 2.4 MB]
Visit a Fisheries New Zealand office
Use our free text service
Send a free text to 9889 with the name of a species.
For example, text "blue cod" or "pāua" to 9889. You'll receive a text with legal bag and size limits for that species.
Size limits, catch limits, closed areas, and special restrictions
Expand All
Report poaching
You can report poaching, suspicious, or illegal activity online:
Report illegal fishing (such as poaching)
You can also:
You can help us by providing:
the location
vehicle/trailer registration number
boat name
description of the person.
When reporting any suspected poaching put your personal safety first. All calls and personal details are treated as confidential.
It is illegal to buy, sell, or swap recreationally caught seafood
These are offences against the Fisheries Act which can result in fines up to $250,000.
Follow us on Facebook
Our regional Facebook pages bring you information about the fishing rules and how we manage and protect local fisheries:
Find out more
Fisheries (Amateur Fishing) Regulations 2013 – NZ Legislation
Who to contact
If you have questions about Challenger area fishing rules, email info@mpi.govt.nz