KEY FACTS
Programme duration: 2018 to 2023 (4 and a half years)
PGP funding: $3.30 million
Industry funding: $3.45 million
Crown funding paid to 30 June 2021: $1.5 million
Commercial partner: Red Stag Investments Ltd
Estimated potential economic benefit to NZ: $155 million a year by 2023 and $330 million a year by 2036
Background to the programme
Red Stag Investments Ltd, a company with its roots in forestry, wood processing, pre-fabrication and property development, has partnered with the Ministry for Primary Industries (MPI) to deliver the $6.75 million Mid-Rise Wood Construction programme.
The programme anticipates delivering economic benefits with a net present value of $155 million by 2023 and $330 million by 2036.
The programme was reset in 2020, extending its duration by 6 months and increasing the budget by $1.75 million to improve its impact.
Benefits will go beyond financial
In addition to direct economic benefits, the programme will help deliver important industrial, social, and environmental benefits of using mass timber through its potential to:
substantially increase the demand for wood products in buildings in New Zealand with flow-on benefits to the forestry and processing sector
significantly speed up construction through off-site pre-fabrication to help meet New Zealand's acute need for more accommodation
lower construction workplace injuries, construction building waste, disruption to traffic, noise and carbon dioxide emissions
generate regional jobs and investment in mass-timber manufacturing and pre-fabrication.
offer market appeal that can lift a building's value through aesthetic, health, and other benefits.
International research and experience show that mass timber has good fire resistance and structural integrity. It has a high strength to weight ratio, which yields high seismic performance.
The challenge
Although New Zealand has an abundant forest resource, wood is rarely used in commercial and institutional scale construction. The use of wood has only been growing at an estimated 1% p.a. in New Zealand. We are lagging in the use of mass timber in construction compared with countries like Australia, Austria, Canada, Germany, the United States, Norway and the United Kingdom.
There's potential to accelerate the construction industry's use of wood to capture a range of benefits but we need education and innovation to do it. That is the Mid-Rise Wood Construction programme's goal.
The solution
The Mid-Rise Wood Construction programme has 3 interconnected parts to help industry meet the challenge:
Using reference buildings
Red Stag is using a range of buildings as reference sites to help design and construction professionals build their knowledge. The first is a luxury apartment building at Clearwater near Christchurch, which is nearing completion. Red Stag is targeting other types of buildings as well. The programme shares some costs of redesigning early stage building projects in mass timber so that performance can be compared with designing and building using conventional steel and concrete. It aims to encourage the use of mass timber.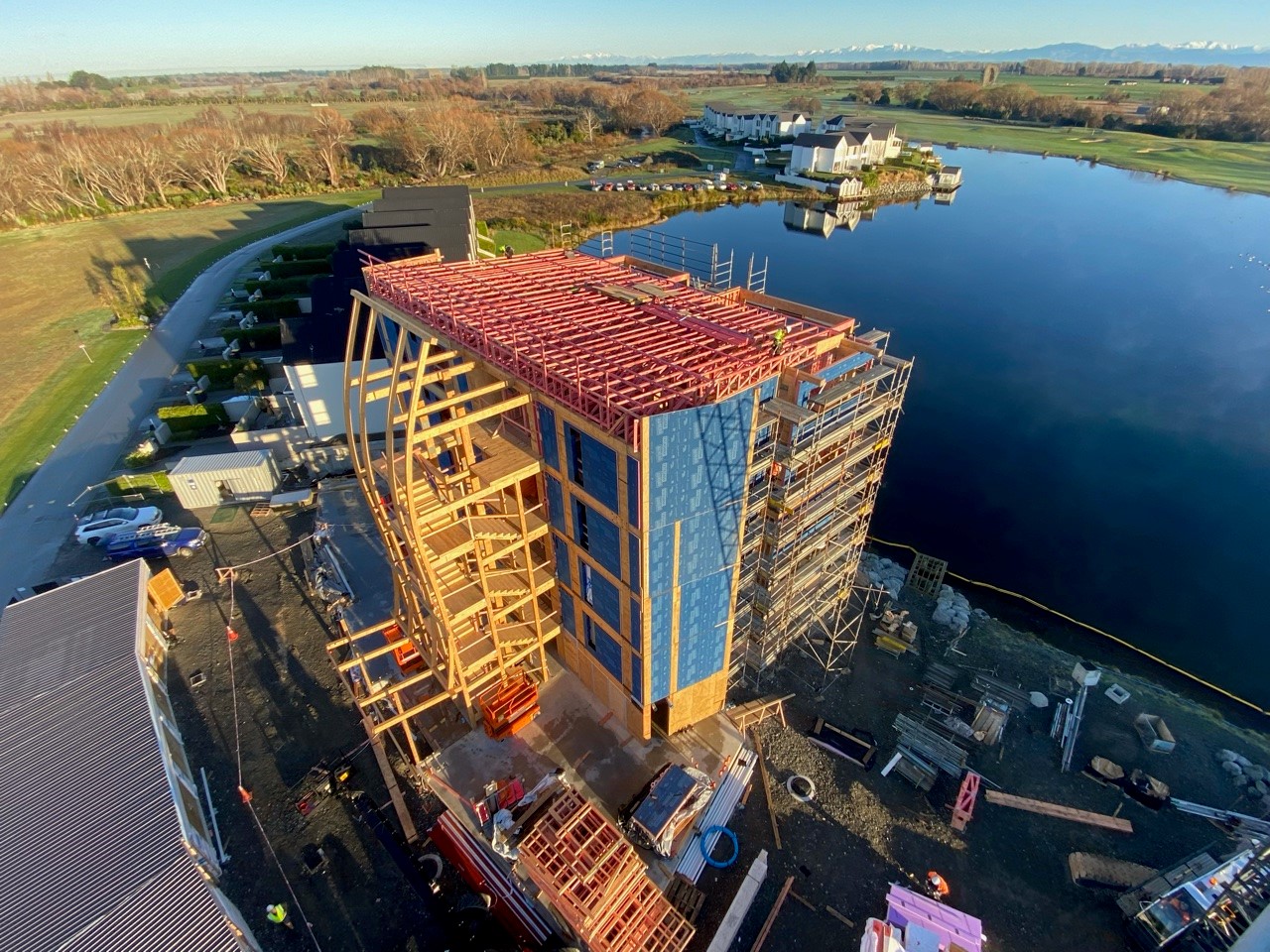 Promoting knowledge
The programme prepares case studies of reference builds including design information, technical details, embodied carbon emission assessments, costs and lessons learned. This information is made freely available. The programme also arranges site visits to showcase the buildings to New Zealand architects, engineers, quantity-surveyors, constructors, manufacturers, council, consent authorities, and developers.
Growing expertise
The programme aims to help grow the pool of New Zealand professionals experienced in mid-rise wood design and construction by extending the knowledge of the broader industry. This is being achieved through open days, seminars, conferences, and the Mid-Rise Wood Construction website.
Programme documents
Outcome logic model for Mid-Rise Wood Construction [PDF, 118 KB]