KEY FACTS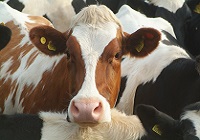 Programme start: 1 June 2019
Length: 7 years
MPI funding: $10.27 million
Industry funding: $15.045 million
Commercial partners: LIC, DairyNZ
Background to the programme
Resilient Dairy started in June 2019 and is a 7-year programme. It aims to improve the health and wellbeing of the national dairy herd.
The programme will focus on 2 core areas:
animal health and wellbeing through disease management technologies
competitive breeding through genomic enhancements.
The challenge
For New Zealand to maintain its reputation as a world-leading producer of premium products, we need to further increase the value of our products in a way that improves sustainability.
The Resilient Dairy programme aims to improve animal health and welfare through ensuring that dairy farms have the best cows that:
are resilient to their environment
have resilience in their health and wellbeing.
The solution
Resilient Dairy will provide farmers with additional animal care information and breed animals better adapted to the external stressors impacting on the animals' wellbeing.
The research includes:
developing new tests to detect micro-organisms that affect cow health
developing a range of new health and welfare related genomic breeding values
improving the genomic evaluation models for New Zealand's pastoral dairy herds.
Find out more
Media release: Dairy industry receives boost with $25 million sustainable innovation programme
Resilient Dairy video – YouTube
Programme documents
Outcome logic model [PDF, 393 KB]
Audit of Resilient Dairy
A midterm independent audit and evaluation is planned for 2022.