Honey and bee products export data
In 2022, the global honey market was valued at USD $8.5 billion. It is predicted to be worth USD $12.7 billion by 2029.
The New Zealand European Union Free Trade agreement removes a 17.3% import tariff on mānuka honey. The tariff has been worth $40 million over the last 5 years.
Mānuka has become popular in the cosmetics industry over the last 10 years. Its use has increased due to its potential benefits for the skin and its natural properties.
New Zealand is the largest exporter of honey to China, accounting for 80% of imports.
The percentage of online sales to US consumers has jumped from 3% in 2019 to 18% in 2023.
NZ honey exports: fact sheet [PDF, 845 KB]
---
Pet food export stats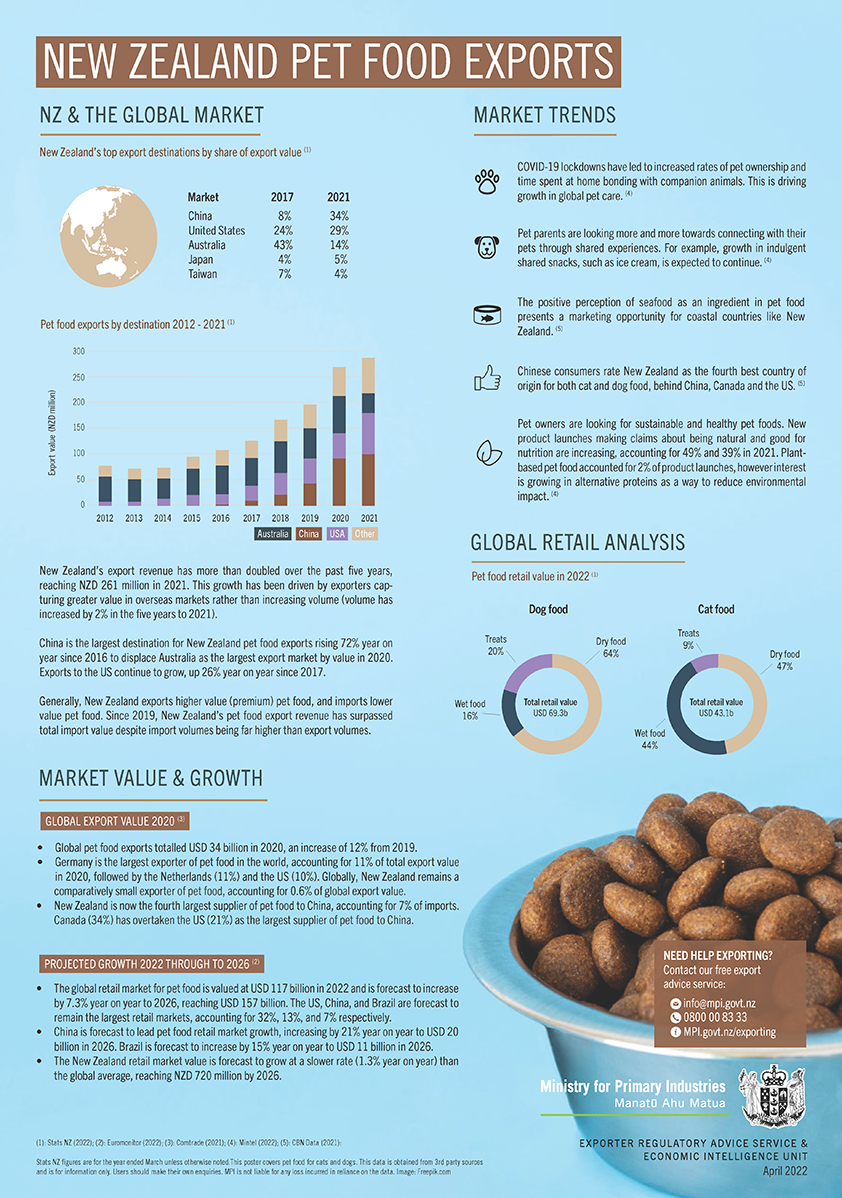 Pet parents are connecting with their pets through more shared experiences. For example, growth in indulgent shared snacks, such as ice cream, is expected to continue.
In 2022 the global retail market for pet food is valued at US$117 billion. It's forecast to increase 7.3% year-on-year, reaching US$157 billion by 2026.
The New Zealand retail market value is forecast to grow at a slower rate (1.3% year-on-year) than the global average, reaching NZ$720 million by 2026.
China is the largest destination for New Zealand pet food exports, rising 72% year-on-year since 2016 to displace Australia as the largest export market by value in 2020.
The positive perception of seafood as an ingredient in pet food presents a marketing opportunity for coastal countries like New Zealand.
Pet food export stats: fact sheet [PDF, 207 KB]
---
Ice cream import and export trade data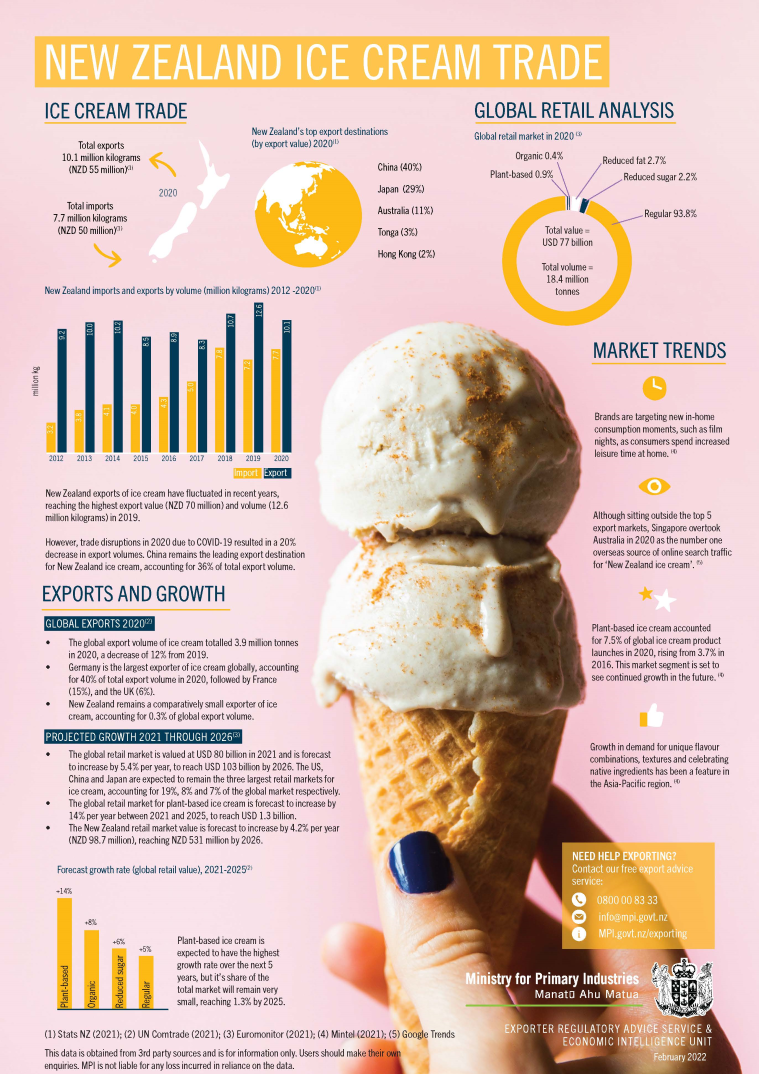 New Zealand exports of ice cream have fluctuated in recent years, reaching the highest export value (NZ$70 million) and volume (12.6 million kilograms) in 2019.
China, Japan, Australia, Tonga, and Hong Kong are the key export markets for New Zealand ice cream.
The New Zealand retail market value is forecast to increase by 4.2% (NZ$98.7 million), reaching NZ$531 million by 2026.
Plant-based ice cream accounted for 7.5% of global ice cream product launches in 2020, rising from 3.7% in 2016. This market segment is set to see continued growth in the future.
NZ ice cream trade: fact sheet [PDF, 867 KB]