NZ export statistics and trade data for ice cream, honey, organics, and non-alcoholic beverages
Interested in how a product is performing? Our one-page export data fact sheets will tell you.
Ice cream import and export trade data
New Zealand exports of ice cream have fluctuated in recent years, reaching the highest export value (NZD 70 million) and volume (12.6 million kilograms) in 2019.
China, Japan, Australia, Tonga, and Hong Kong are the key export markets for New Zealand ice cream.
The New Zealand retail market value is forecast to increase by 4.2% (NZD 98.7 million), reaching NZD 531 million by 2026.
Plant-based ice cream accounted for 7.5% of global ice cream product launches in 2020, rising from 3.7% in 2016. This market segment is set to see continued growth in the future.
NZ ice cream trade: fact sheet [PDF, 867 KB]
---
Non-alcoholic beverages import and export trade data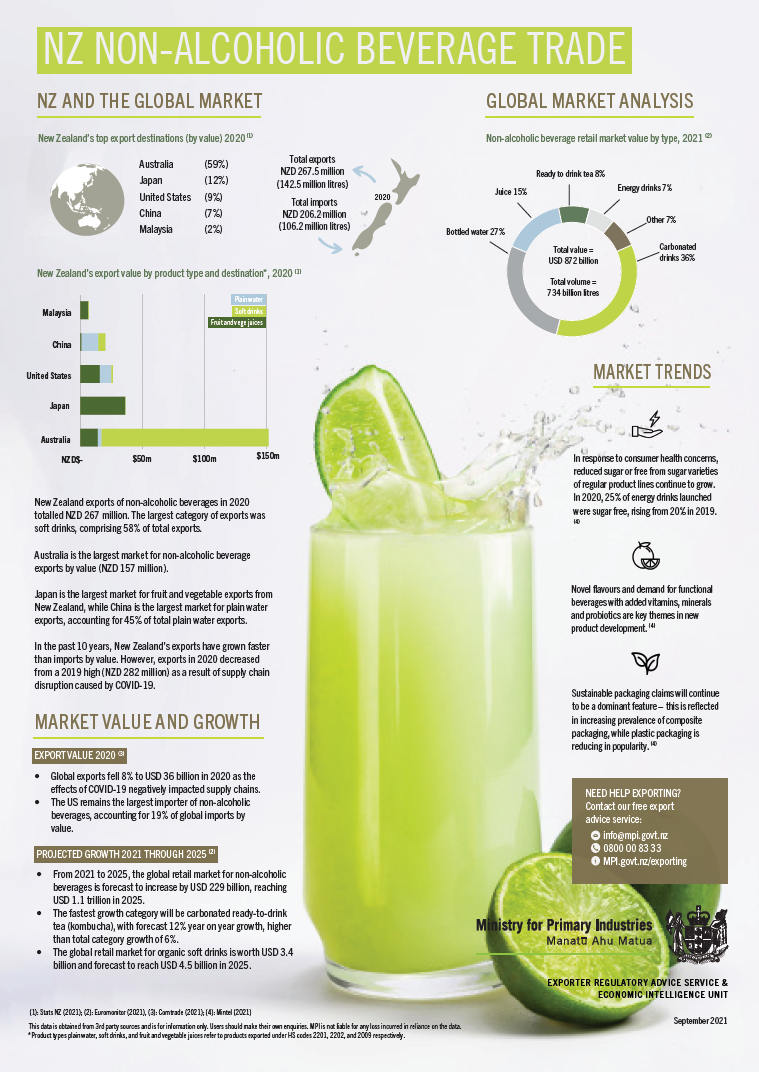 New Zealand exports of non-alcoholic beverages in 2020 totalled $267 million. This was down from a high of $282 million in 2019.
Soft drinks were the largest category. They made up 58% of total exports.
Australia was the largest market by value ($157 million).
Japan was the largest market for fruit and vegetable juice exports.
China was the largest market for plain water (45% of total plain water exports).
In the past 10 years, New Zealand's exports grew faster than imports by value.
Overall market growth is forecast to be 6%. The fastest growth category will be carbonated ready-to-drink tea (kombucha) with 12% growth year-on-year.
NZ non-alcoholic beverages imports and exports: fact sheet [PDF, 215 KB]
---
Honey and bee products export data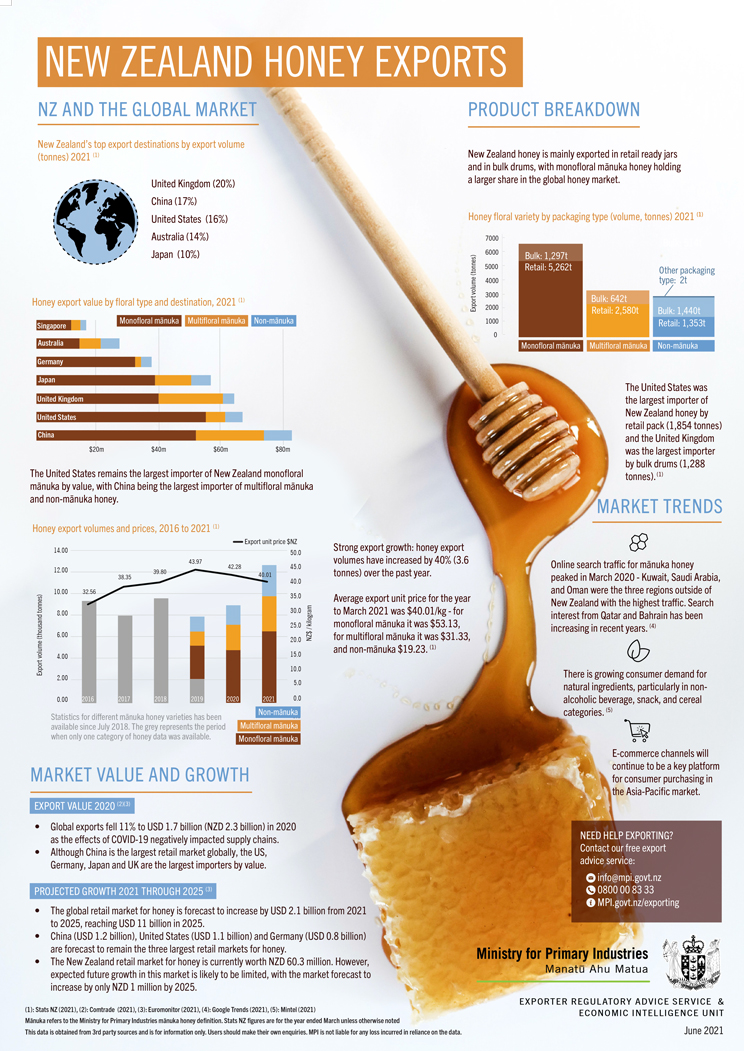 Strong export growth: honey export volumes have increased by 40% (3.6 tonnes) over the past year.
The top honey export price year ending March 2021 was $53.13 per kilo for monofloral mānuka.
Monofloral mānuka honey is still holding a larger share in the global honey market compared to 2020.
The United States was the largest importer of New Zealand honey by retail pack (1,854 tonnes) and the United Kingdom was the largest importer by bulk drums (1,288 tonnes).
Although China is the largest honey retail market globally, the United States, Germany, Japan, and the United Kingdom are the largest importers by value.
NZ honey exports: fact sheet [PDF, 2.2 MB]
---
Organic food and beverage export data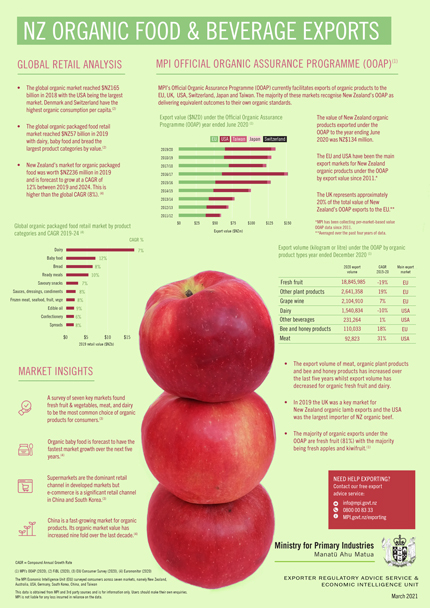 The value of New Zealand organic products exported under MPI's Organic Official Assurance Programme (OOAP) to the year ending June was $134 million.
The EU and USA have been the main export markets for New Zealand organic products under the OOAP by export value since 2011.
In 2019 the UK was a key market for New Zealand organic lamb exports and the USA was the largest importer of NZ organic beef.
The global organic packaged food retail market reached $57 billion in 2019 with dairy, baby food and bread the largest product categories by value.
New Zealand's market for organic packaged food is forecast to grow at a compound annual growth rate (CAGR) of 12% between 2019 and 2024.
NZ organic food and beverage exports: fact sheet [PDF, 375 KB]