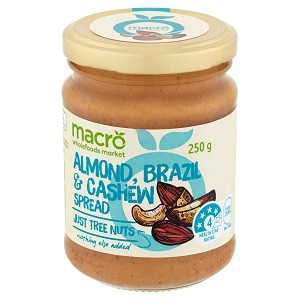 Almond Brazil and Cashew Spread (250g)
Product identification

Product type

Nut spread

Name of product

Macro Natural Almond Brazil and Cashew Spread (250g)

Products affected

The above product purchased from the retailers listed below with best before dates of 15/4/21 and 30/11/21.

Package size and description

The products are sold in 250g glass jars.

Distribution

The products are sold at these retailers throughout New Zealand:

Countdown / FreshChoice / SuperValue stores

Notes
Consumer advice
Customers who have purchased Macro brand Natural Almond Brazil and Cashew Spread are asked to check the best before dates.
People with a peanut allergy should not consume these products. If you have consumed any of these products and have any concerns about your health, seek medical advice. If you are not allergic to peanuts, this recall does not affect you.
Customers with a peanut allergy should return the products to their retailer for a full refund.
Who to contact
If you have questions, contact Woolworths NZ: