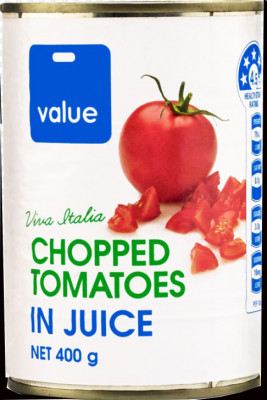 Product identification

Product type

Canned product

Name of product (size)

Value Brand Viva Italia Chopped Tomatoes in Juice (400g)

Batch marking

SMS1 J213

TTA1 J213

TTA1 J214

TTA1 J215

TTA1 J217

Package size and description

The product is sold in a 400g can.

Distribution

The product is sold in New World, Pak'n Save, Four Square, Gilmours, and Trents stores nationwide.

The product is imported from Italy and has not been re-exported.

Notes

This recall does not affect any other Value brand products or any other Viva Italia products.
Consumer advice
Customers are asked to check the batch number on the bottom of the can.
Affected product should not be consumed. There have been no reports of associated injury, however if you have consumed any of this product and have any concerns about your health, seek medical advice.
Customers should return the product to their retailer for a full refund.
Who to contact
If you have questions, contact Foodstuffs Own Brands Ltd:
Phone: 0800 24 51 14
Address: 95 May Road, Mt Roskill, Auckland.